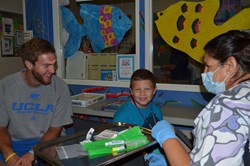 Loma Linda, CA (PRWEB) August 02, 2013
Members of the UCLA Bruins football team took time out before starting practice to visit and bring cheer to kids at Loma Linda University Children's Hospital on Thursday (Aug. 1).
Four members of the team came bearing posters and other gifts to the hospital's Hematology-Oncology Clinic in San Bernardino. There, they traded stories, signed autographs, played videogames, and posed for pictures with the children. The team members who visited were: Phil Ruhl, fullback; Aramide Olaniyan, linebacker; TJ Millweard, quarterback; and Eli Ankou, defensive end.
"It's great to be here and be able to meet these kids," said Millweard. "These kids really inspire us with their strength and courage in the face of everything they've been through."
The Bruins are going to be a familiar sight in the area for the next few weeks as they hold open practices at the San Bernardino Camp at California State University, San Bernardino, with support from Stater Bros. Markets. The public practices begin on Aug. 7 on the athletic fields located on the east side of the campus. UCLA begins the 2013 football season at home against Nevada on Aug. 31.
"Stater Bros. Markets is happy to welcome and support the UCLA Football Team to Camp San Bernardino and join them in a visit to Loma Linda University Children's Hospital," said Susan Atkinson, Vice President Corporate Affairs at Stater Bros. Markets.
Photo Caption: Members of the UCLA football team visited the children at Loma Linda University Children's Hospital Hematology-Oncology Clinic on Thursday (Aug. 1). In the photo, Bruins quarterback TJ Millweard (left) lends moral support to Gabriel Lopez, 9, of Yucca Valley, while receiving treatment from nurse Audrey Maxton.
About Loma Linda University Children's Hospital - LLUCH
Loma Linda University Children's Hospital is the only dedicated pediatric hospital in the vast geographic region of San Bernardino, Riverside, Inyo and Mono counties. With 348 beds dedicated just for kids, one of the largest Neonatal Intensive Care Units (NICU) in the country, and more than 100,000 children who come each year, LLUCH is a major pediatric teaching facility, known worldwide as the pioneer of neonatal heart transplantation. LLUCH is part of Loma Linda University Health (LLUH), the umbrella organization encompassing Loma Linda University's eight professional schools, Loma Linda University Medical Center's six hospitals, and more than 900 faculty physicians located across the Inland Empire in Southern California. A Seventh-day Adventist organization, LLUH is a faith-based health system with a mission "to continue the teaching and healing ministry of Jesus Christ."