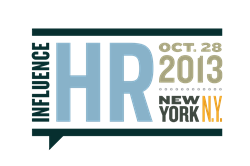 The marketing and sales executives who attend this event are expecting to get insight from the companies setting the trends
New York, NY (PRWEB) August 05, 2013
As marketing symposium InfluenceHR heads to New York, the conference is lining up transformational sponsors. LAROCQUE is excited to announce that The Starr Conspiracy and Influitive are going to bring their expertise to InfluenceHR on Oct. 28, 2013.
"The marketing and sales executives who attend this event are expecting to get insight from the companies setting the trends," said George LaRocque, President of LAROCQUE, the leading strategy and go-to-market consulting firm for HR-related technology and the human capital management (HCM) marketplace.
As a follow-up to the May event, InfluenceHR New York will feature a range of sponsoring companies, each bringing a little something different to the table. These are companies that anticipate the needs of the HR buyer and can help other CEOs, CMOs, and VPs in marketing and sales target their audience better than anyone.
Game-changing sponsor The Starr Conspiracy last introduced its expansive B2B marketing model, The Honeycomb. "After such a great response in May," said partner Mark Mitchell, "we knew we wanted to keep the momentum going."
Influitive will be an Influencer-level sponsor, diving deep into advocate marketing. "Turning to knowledgeable peers for buying advice doesn't just happen in the B2C marketplace," said CEO and founder Mark Organ. "Based on the overwhelming reception to our keynote in May, we are looking forward to discussing the power and influence advocates can wield in New York."
Attendees will also have exclusive access to HR buyers, market-leading analysts, and trailblazing peers. The panelists and speakers are heading up their own companies' strategies, so they know what the hell they're talking about.
Here's what attendees need to know:
InfluenceHR Conference
Oct. 28, 2013
New York City
Conference Website
Conference Location:
Convene Conference Center
32 Old Slip
New York, N.Y. 10005
About LAROCQUE
LAROCQUE is the leading strategy and go-to-market consulting firm for HR-related technology and the human capital management (HCM) marketplace. Services are offered in a unique Service-on-Demand approach, as well as by project or retainer. LAROCQUE publishes the #hrwins list of HR Companies To Watch annually, celebrating the innovation taking place in the HCM and HR tech markets by vendors of all sizes. Learn more about bringing HCM and HR Technology to market at http://www.larocqueinc.com
About The Starr Conspiracy
You shouldn't have to pay an agency to get to know your industry. The Starr Conspiracy already knows your market segment, who you are, and where you fit in. We're a strategic marketing and advertising agency devoted exclusively to enterprise software and services. When you partner with us, it's to build market share, multiply brand awareness, and drive sales leads — not to bone up on the basics. We've been "out there" for more than a decade, so you can hit the ground running. Founded in 1999 and located in Fort Worth, Texas, The Starr Conspiracy has won eight best places to work awards and countless creative awards. Visit us on the Web at http://www.thestarrconspiracy.com..
About Influitive
Influitive, based in Toronto and San Francisco, is changing the face of B2B marketing through its innovative AdvocateHub platform for advocate marketing. Today's buyers are leveraging knowledgeable peers at roughly twice the rate that they did even four years ago. Influitive's AdvocateHub lets marketers capture the enthusiasm of their best customers, followers, and evangelists, turning that into direct support through all stages of the buying cycle, from social media reviews and customer referrals to case studies and references. Influitive's customers include some of the most successful and fastest-growing business-to-business software and technology firms in the world. To learn how to get your advocates working with you, please visit http://www.influitive.com.