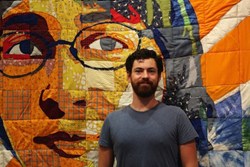 I now have a few new tricks up my sleeve and I am going to take these tools home and change the way I make quilts!
Omaha, NE (PRWEB) August 05, 2013
In July, AccuQuilt welcomed celebrity quilter Luke Haynes and his "Fabric Figures" quilt exhibit to their showcase gallery. This exhibition is open to the public and on display until August 31. The opening reception on July 18 celebrated Haynes' show and marked the start of his artist-in-residence with AccuQuilt's Dream Studio.
While he was there, Haynes spent his time working on a variety of quilting projects including a quilting project he designed using repurposed dress shirts acquired from a local Goodwill.
After carefully disassembling the shirts, Haynes created his own blocks of fabric and die cut them into shapes using the Winding Ways die for the Go! Cutter system. Colors of blue, white, and various striped patterns gave his design an intricate look.
"I really liked my time working with the team at AccuQuilt and having them walk me through their tools," Haynes said. "I now have a few new tricks up my sleeve and I am going to take these tools home and change the way I make quilts!"
AccuQuilt has posted a picture of the finished quilt top made from the repurposed shirts on their Facebook page for those that would like to view the design.
The AccuQuilt Gallery is located at the AccuQuilt Omaha headquarters at 8843 S 137th Circle (near Cabela's®, off Interstate 80). Visitors can view the exhibition by Luke Haynes and can tour AccuQuilt's Gallery and Dream Studio by calling 888.258.7913 or emailing tours(at)accuquilt(dot)com for more information. Click here to learn more about the AccuQuilt Gallery.
To learn more about Luke Haynes, visit his website at Lukehaynes.com.
About AccuQuilt, Better Cuts Make Better Quilts:
Headquartered in Omaha, Neb., AccuQuilt offers quilters, fabric crafters and retailers a premiere line of fabric cutters, dies, quilting patterns and other quilt and fabric cutting solutions that help quilters quickly and accurately cut shapes for quilting and fabric crafts. AccuQuilt also offers quilters a wide variety of rich educational resources to enhance their quilting experiences. Cutting with AccuQuilt cutters is a natural evolution of fabric cutting methods. "First scissors…then rotary…finally…AccuQuilt" for fast, easy, accurate fabric cutting.