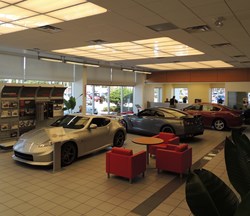 St. Petersburg, FL (PRWEB) August 06, 2013
Crown Nissan, a part of the Crown Automotive Group, recently completed the Nissan Retail Environmental Design Initiative (NREDI) dealership renovation. The fully refurbished dealership meets the high standards of NREDI guidelines for elegant, innovative design, and customer comfort and convenience. After six months of extensive renovations, the refurbishment is complete and the dealership is fully operational. In addition to increased square footage the improvements include all new furnishings, flooring, reception area and service drives.
The remodeled Crown Nissan includes new Nissan fascia and signage, six additional service bays and a new three-lane service drive. The dealership also includes a completely remodeled customer reception and lounge, and a greatly expanded showroom with additional display and office space. 2,915 square feet were added to the showroom and 2,767 square feet were added to the service center, bringing the total dealership square footage to 26,170. Construction began this January and was completed in June 2013. Further, new employees will be added to the enlarged dealership.
Jim Myers, president of the Crown Automotive Group, stated, "Nissan is a dynamic automobile manufacturer on the leading edge of design and efficiency. This investment for Crown is right in step with Nissan's market leadership. Having now completed our Nissan, Hyundai and Buick GMC facilities, we're pleased with the extensive construction and renovations of the entire Crown campus at the corner of 34th Street and 54th Avenue North, which began in 2011."
Crown Nissan general manager Terry Hawkins commented, "We are very enthusiastic about the Nissan brand and all the new products that Nissan has brought to the market, like the new Pathfinder and the new Altima. We wanted to invest in a more comfortable, updated dealership for our customers to best reflect the brand and its quality vehicles. We are pleased with the results and our customers have responded extremely favorably to our new NREDI facility."
Paula Wells, NREDI manager at Nissan North America, stated that Crown Nissan's facility rebuild was, "the finest renovation job completed by any Nissan dealership in the Southeast Region."
All community members and media are invited to visit Crown Nissan's new NREDI dealership located at 5151 34th Street North in St. Petersburg.
About Crown Automotive Group:
Crown Automotive Group has been in business for over 40 years and currently operates 35 domestic and international automotive franchises in Florida, Ohio and Tennessee, with over 750 employees. The group maintains a laser focus on customer and employee satisfaction, and that philosophy permeates all dealership operations. When it comes time to shop for a new vehicle, parts or service, there's a Better Way to do it. With Crown's everyday low prices and financing, you can shop and be confident that you're getting a great deal. And, with over 100 acres of new and used vehicles, you'll be sure to find exactly what you want. No matter what you're looking for, Crown hopes to find a way to provide it for you. That's why we truly feel we're The Better Way to Buy.