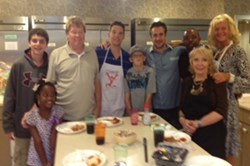 We know that families are stronger when they are together.
Orlando, Florida (PRWEB) August 04, 2013
Florida Seal Coat and Rotary help Ronald McDonald house aid sick kids, while Florida Seal Coat Supply provides the materials to resurface the aging parking lots, Rotary Orlando Evening donates, prepares, and serves much appreciated meals to help ailing children.
Ronald McDonald House is an organization dedicated to aiding the families of very sick children, allowing families to stay close to hospitals where seriously ill children are being treated. "We know that families are stronger when they are together, and their presence helps a sick child heal faster and cope better," said Theodora Uniken Venema, President of Rotary's Orlando Evening Club.
"Ronald McDonald house helps ensure 7 million families a year have the stability and resources they need to keep their child healthy and happy," said Sandra Eunice, spokesman for Florida Seal Coat Supply, who donated the materials for the new parking lots.
Darrell Chapman, president of Perma Stripe, who also donated materials to the project, commented, "The Ronald McDonald House is always located adjacent to hospitals specializing in childhood care, in Orlando it is near the Arnold Palmer Center," Darrel continued, "We are proud to help an organization that uses over 90% of donations to fund their mission to help children and their families."
Perma Stripe, owned by Darrell and Trey Chapman, has also kindly donated their time and covered the cost of labor to resurface the parking lots of Kids House Of Seminole and the Boys and Girls Club in Sanford.
Thomas R. Reich, Marketing Director for CharityNet USA said, "I have been involved with Rotary and their support of the Ronald McDonald House, to see the smiles on faces that have been crying minutes before, makes you feel your time and donations are doing real good."
Florida Seal Coat supply and Sandra Eunice can be reached at 407.579.1060 or floridasealcoatsupply.com. Perma Stripe and Darrell Chapman can be reached at 407.814.7400 or permastripe.com.