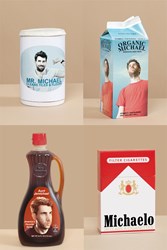 "As if Warhol Were Locked in a Supermarket for a Weekend with Banksy" - Fast Company
New York, NY (PRWEB) August 05, 2013
"A Post-Warhol, Post-Facebook, Post-Dada Artist Surprising New Yorkers Everywhere" - ARTINFO
"As if Warhol Were Locked in a Supermarket for a Weekend with Banksy" - Fast Company
"A Vainglorious American Visionary" - Trendhunter
As an ongoing project since 2012, Photographer Mike Mellia has been surreptitiously placing self-branded consumer products inside local bodegas, supermarkets, and people's homes as an alternative to social media's online status updates. With our self-portraits shared through social media, everyone now creates their own "brand".
Mellia's "Self-Absorbed" re-imagines some of the most famous branding icons in American advertising. This Product Placement Project combines the interactive experience of performance art with the subversive tactics of street art.
Mike Mellia (http://www.mikemellia.com), an advertising and fine art photographer in New York City, explains: "I have always been interested in the fine line between advertising and art. Re-imagining these specific famous American icons was a way to address many social and cultural topics simultaneously, while expanding the realm of photography into a more interactive performance experience with the public."
In many ways, Mike Mellia's Self-Absorbed also asks if today's Social Media Generation now "brands" themselves in a similar manner to advertisers. The series fits in with Mellia's other works that revolve around the American social and cultural issues of advertising, consumption, corruption, compulsion, and technology.
View the entire series here: http://www.mikemellia.com/self-absorbed.html.