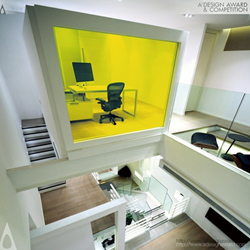 Como, Italy (PRWEB) August 15, 2013
A' Design Award and Competitions are proud to see that the work Paradox House by Catherine Cheung has been awarded with the famous Golden A' Design Award in Interior Space and Exhibition Design Category highlighted as a winner by the esteemed jurors of the A' Design Award & Competition among thousands of works.
Winner Design: Paradox House
The Paradox House is a split-level warehouse turned into a chic multimedia design studio. The project finds the perfect balance between functionality and style while reflecting its owner's unique taste and way of life. It is created into a striking multimedia design studio with clean, angular lines that showcases a prominent yellow-tinted glass box on the mezzanine. Geometric shapes and lines are modern and awe-inspiring but tastefully done to ensure a unique working space.
To learn more about this design, please visit: http://www.adesignaward.com/design.php?ID=26725
Project Members for Paradox House
Paradox House was realized by Catherine Cheung – Design Director, Carlina Giovannetti – Architectural Interior Designer, Pollan Wong – Project Designer, Kalother Yim and Ella Hung – Interior Designers, Tim Yeung and Kong Cheuk - Designers.
The Golden A' Design Award
The Golden A' Design Award is a prestigious award given to top 3% percentile designs that has exhibited an exemplary level of sublimity in design. The designs are judged by a panel of three different jury which is composed of Academic, Professional and Focus Group Members. The designs are evaluated with score normalization to remove any biases and are voted on aspects such as functionality, ergonomics, engineering, presentation, innovation, usability, fun details, technology, and any other specific points that could be considered, each of these points are further weighted for different jury groups.
About A' Design Award and Competitions
A' Design Award and Competitions, aims to highlight the excellent qualifications of best designs, design concepts and design oriented products. A' Design Award and Competitions are organized and awarded annually and internationally in multiple categories to reach a wide, design-oriented audience. To learn more visit: http://www.whatisadesignaward.com