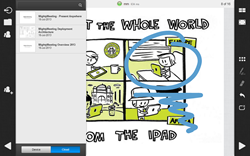 MightyMeeting is an excellent tool for online tutoring and classroom collaboration. With HTML5, I can easily make it available to every student and every teacher in my school district.
New York, NY (PRWEB) August 07, 2013
MightyMeeting, a mobile collaboration and learning company, today announced availability of MightyMeeting for HTML5, an innovative web-based application delivering real-time content synchronization, whiteboard sharing, and video conferencing in a solution that requires no browser extensions or plug-ins.
Platform fragmentation is a fact of life for everyone from students to executives. It is not uncommon for someone to own a Windows laptop, an iPhone, and an Android tablet, and to constantly switch between devices throughout the course of a day. For many, meeting with other people and delivering presentations is an important part of their daily routine.
With the release of its innovative HTML5 application, MightyMeeting enables high-impact presentations in online and paperless face-to-face meetings any time, any place, and on any platform: Windows, iOS, Android, Chrome OS, Firefox OS, or any other platform that supports a modern web browser.
"MightyMeeting for HTML5 is a complete presentation platform that runs everywhere and eliminates many of the headaches associated with mobile application management," says Dmitri Tcherevik, MightyMeeting's CEO and founder. "We built this app in response to persistent demand from our technology partners and customers in education, sales, and marketing".
MightyMeeting for HTML5 can be used to open PowerPoint presentations and PDF documents in a web browser for sharing and real-time collaboration with any number of devices located on any network anywhere in the world. Meeting participants can jointly review slides and make annotations on a shared interactive whiteboard.
Video conferencing is supported for up to six participants on devices running the latest version of Google Chrome or Mozilla Firefox. This functionality leverages WebRTC, the latest trend in unified communication, and requires no downloads or plug-ins. This feature eliminates a range of deployment issues and security concerns.
"The nature of our business requires constant communication with people both inside and outside of the organization," says Tim Richardson, VP of Operations at IST Management, one of the fastest-growing facilities management companies in the US. "MightyMeeting's cross-platform capabilities make it a natural choice for collaborating and sharing ideas in person and online".
Support for HTML5 greatly simplifies mobile device and application management. An IT manager can deliver a copy of MightyMeeting to every person in the organization by sharing a single URL. Application updates are automatically and instantaneously delivered to all devices, regardless of the device type. Content saved on a device can be remotely erased by deleting a user account.
"BYOD is a major trend in education. Schools need to have a system in place that allows teachers and students to seamlessly use iPads, Windows tablets, ChromeBooks, and other devices as part of the learning process," says David Barclay, an IT director at the Glens Falls City School District. "MightyMeeting is an excellent tool for online tutoring and classroom collaboration. With HTML5, I can easily make it available to every student and every teacher in my school district."
MightyMeeting for HTML5 is available today at https://mighty.ws. Native applications for iOS and Android are also available in Apple's App Store and Google Play.
MightyMeeting is free for individual users. Volume licensing for organizations includes guaranteed SLAs, 24x7 support, assignment of content ownership, and other benefits.