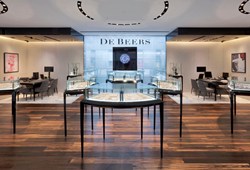 Greater China is a key region for De Beers, recognising the demand for exquisite designs and diamonds of superlative quality by Chinese clients.
New York, NY. (PRWEB) August 06, 2013
De Beers Diamond Jewellers is delighted to announce the re-opening of its Landmark store in Hong Kong and its Macau store following their renovations. These two stores are key locations for De Beers in Asia, with Landmark the ultimate destination for luxury shopping in Central, Hong Kong, and The Shoppes at Four Seasons, the epicentre for jewellery on the Cotai Strip in Macau.
The stores bring to life De Beers, The Jeweller of Light with its unique store concept of glass and light. Clients are invited to discover De Beers' unique designs including iconic collections, timeless classics, engagement rings and unique High Jewellery that draw on our 125 years of diamond mastery. Each De Beers store is equipped with a De Beers Iris, a unique technology that helps clients see the beauty of each diamond through the eyes of an expert.
Greater China is a key region for De Beers, recognizing the demand for exquisite designs and diamonds of superlative quality by Chinese clients. Following recent openings in Mainland China, the re-openings of Landmark, Hong Kong and Macau reflect De Beers' success as a global destination for diamond jewellery lowers and connoisseurs.
De Beers has a worldwide presence with stores located in prime shopping locations including Old Bond Street in London, 5th Avenue in New York, Printemps and Galeries Lafayette in Paris, Shin Kong Place in Beijing, IFC in Shanghai and Ginza in Tokyo. De Beers has two stores in Hong Kong: Landmark in Central and Elements in Kowloon.
The stores are located at:
De Beers Landmark Hong Kong
Shop G1-2 Ground Floor
(Entrance on Des Voeux Road Central)
The Landmark
Hong Kong
T. +852 2118 2321
Opening hours:
Monday to Saturday, 10:00am - 7:30pm
Sunday and Public holidays, 11:00am - 7:00pm
De Beers Macau
The Shoppes at Four Seasons
Estrada de Baia de N. Senhora da Esperanca s/n
Cotai Strip Taipa,
Macao
T. +853-82828233
Opening hours:
Sunday to Thursday 10AM to 11PM
Friday to Saturday 10AM to 12AM
The De Beers Difference
De Beers, the Jeweller of Light, creates timeless treasures that reveal and celebrate the wondrous brilliance of women and diamonds. As the definitive destination for diamond jewellery, we have a quest for inner beauty, bringing lightness, femininity and delicacy to our sublime diamond jewellery.
Drawing on diamond mastery since 1888, De Beers hand-select each diamond for its unique beauty to capture unmatched Fire, Life, and Brilliance. Each unique De Beers creation is the culmination of wondrous artistry and the true beauty of the finest diamonds. De Beers is proud to be the only brand to demonstrate the beauty of its diamonds, using the De Beers Iris. This proprietary technology, found in each De Beers store provides clients with an objective way to see the beauty of their diamond through the eyes of an expert.
The De Beers Guarantee
Each piece of De Beers jewellery is certified with a De Beers passport and each polished diamond above 0.20 carats is microscopically branded with the De Beers Marque. The De Beers Passport documents the specifications of your diamond jewellery and is your guarantee that every single De Beers diamond is natural, untreated, conflict-free and responsibly sourced and crafted. The De Beers Marque, using technology patented by the De Beers Group, is invisible to the naked eye and ensures that each diamond is individually cataloged in the De Beers diamond registry, confirming its identity as a De Beers official diamond, to provide clients with a total peace of mind.
De Beers Diamond Jewellers
De Beers Diamond Jewellers was established in 2001 as an independently managed and operated company by LVMH Moët Hennessy Louis Vuitton, the world's leading luxury products group, and De Beers SA, the world's premier diamond mining and marketing company.