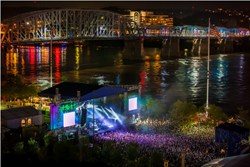 "This year's Bunbury Festival met and exceeded even the highest expectations - it had Cincinnati rocking! Bunbury is a world-class event, and we are grateful for both the economic impact and the positive energy it brings to our city"
Cincinnati, OH (PRWEB) August 05, 2013
Fans are still buzzing about the 2013 Bunbury Music Festival that was held in Cincinnati, OH July 12-14. The second annual Bunbury Music Festival hosted well over 60,000 attendees and saw nearly 80 live performances on 6 different stages from bands including Fun., MGMT, The National and more.
According to Councilman P.G. Sittenfeld, the success of the festival has a positive impact on Cincinnati's atmosphere as well as its economy. "This year's Bunbury Festival met and exceeded even the highest expectations - it had Cincinnati rocking! Bunbury is a world-class event, and we are grateful for both the economic impact and the positive energy it brings to our city," says Sittenfeld.
As fans continue to rave about this year's event, festival director Bill Donabedian says the festival is already preparing for next year. "2013 turned out to be a great year. The bands really delivered and attendees had a great time. Planning is already underway for 2014 and we couldn't be more excited. See everyone July 11-13 next year!," says Donabedian.
The third annual Bunbury Music Festival will return to downtown Cincinnati's Sawyer Point and Yeatman's Cove for three days of music on Friday, July 11, Saturday, July 12 and Sunday, July 13, 2014. Lineup and additional details will be announced at a later date.
Tickets for the 2014 event are $55 for a one-day pass and $130 for a three-day pass and are on-sale at bunburyfestival.com/tickets. VIP tickets for 2014 are also on sale now.
BEE There:
Friday, July 11, 2014
Saturday, July 12, 2014
Sunday, July 13, 2104
###
About Bunbury Music Festival: Bunbury Music Festival is an alternative music festival that will feature nearly eighty live performances across six stages throughout Sawyer Point and Yeatman's Cove from July 11-13, 2014. The name of the event comes from an Oscar Wilde play, "The Importance of Being Earnest" and means "to have a made up excuse to get out of doing something boring."
For more information: bunburyfestival.com
Facebook: facebook.com/bunburyfestival
Twitter: @bunburyfestival
Media Contact:
Andy Wilson
Bohlsen Group
317.602.7137
awilson(at)bohlsengroup(dot)com
Photo Credit: ©2013 Steve Ziegelmeyer