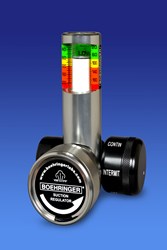 "Based on bedside checks of more than 4000 patient rooms, your hospital more than likely has half the suction instruments you need, and only half of them are working." - Kevin Klocek, Clinical Engineer
Phoenixville, PA (PRWEB) August 07, 2013
Boehringer Laboratories LLC, an innovative biomedical device manufacturer, is proud to announce that it has been selected by HealthTrust Purchasing Group, L.P. (HPG) as a contracted provider of clinical suction controls. Effective September 1, 2013, HealthTrust Purchasing Group members will have exclusive access to attractive contract pricing on the best suction regulators available on the market. HPG is currently the only GPO able to leverage the quality and value found in these instruments, and this commitment to Boehringer Laboratories signifies HPG's dedication to sustained value for its membership base.
A vertically integrated company, Boehringer Laboratories, LLC has a 40 year history of innovative medical device design and a consistent commitment to quality and service in all that they do. Headquartered just west of Philadelphia, Boehringer Laboratories has produced medical suction controls for more than 30 years, and is widely regarded as the clinical leader in this field.
Built in the USA and backed by the broadest array of supportive clinical literature, Boehringer Suction regulators are the only devices in their class that can be terminally sterilized using a Validated Sterilization Solution (VSS270) to provide for both patient and staff safety. These factory calibrated instruments are built with synthetic sapphire coated, aircraft grade aluminum (6060-T6) and have the lowest demonstrated cost of ownership within its product class. A full factory twelve year warranty covers the majority of these instruments.
"Based on bedside checks of more than 4000 patient rooms, your hospital more than likely has half the suction instruments you need, and only half of them are working. Our goal is to ensure equipment is always available for routine and emergent procedures" - Kevin Klocek, Clinical Engineer; Product Development Team