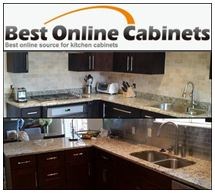 According to a spokesperson for the company, 'We are pleased to provide our customers with ready to assemble kitchen cabinets at heavily discounted prices.'
(PRWEB) August 05, 2013
Best Online Cabinets, a premier online vendor of quality discount kitchen cabinets and accessories, is excited to report that it will be offering new styles for its cabinets soon. The gorgeous white shaker and maple shaker styles add even more variety to the many great styles available for its kitchen cabinets online.
Finding and purchasing cabinets on the Web has gotten easier and less expensive because of Best Online Cabinets, which offers a wide selection of cabinets, as well as a complimentary design service. Every style available from Best Online Cabinets is unique and brings something new to a kitchen or bathroom, with the new white shaker and maple shaker styles no exception. The white shaker offers an appealing shaker design with a clean and bright hue, while the maple shaker style is a gorgeous brown shade that exudes elegance and warmth in the kitchen.
In addition to its new styles, Best Online Cabinets features a large range of existing styles, plus materials and accessories that add a great deal of functionality and class to customers' kitchens. According to a spokesperson for the company, "We are pleased to provide our customers with ready to assemble kitchen cabinets at heavily discounted prices." The company reaffirms its dedication to quality product offerings, great prices, and customer service with each transaction.
About Best Online Cabinets
For many years, Best Online Cabinets has done its best to provide homeowners with the highest quality discount kitchen cabinets and accessories, including everything from vanities and oak kitchen cabinets to flooring and sinks. The company is pleased to provide massive savings to its customers through unmatched wholesale pricing on its many quality product offerings. Thanks to its impressive selection of attractive styles and materials, as well as great customer service, Best Online Cabinets has become the leading destination for kitchen renovation products online. For additional information please visit, http://www.bestonlinecabinets.com/.