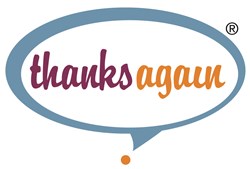 "Traveler loyalty (and the benefits of encouraging and rewarding it) has long been a priority for many of Chauntry's airport clients.
Atlanta, GA (PRWEB) August 07, 2013
Thanks Again, LLC is pleased to announce that its innovative airport traveler loyalty and engagement solution can seamlessly integrate with Chauntry Parkspace™, the complete pre-book parking solution for airports. Airports that utilize both Thanks Again and Chauntry Parkspace can enable its travelers to securely and automatically earn airline miles, hotel points or other popular consumer rewards of their choice when pre-booking onsite parking with registered debit and credit cards.
Consumers conveniently and securely enroll in the Thanks Again program for free at http://www.thanksagain.com and earn incremental miles or points when parking, shopping or dining at over 165 airports nationwide including Hartsfield-Jackson Atlanta International (ATL) and Dallas/Fort Worth International (DFW).
Via Chauntry's secure Parkspace solution, travelers can pre-book airport parking in advance of travel. On-airport parking reservations can be completed online and via smartphone applications for 80 airports across 4 continents including London Heathrow (LHR) and Amsterdam Schiphol (AMS).
Marc Ellis, Thanks Again CEO, commented, "We are excited to co-market our value-added services alongside those of Chauntry. The Parkspace solution enables airports globally to enhance their engagement with travelers before they even arrive at the airport. We believe that traveler loyalty rewards combined with pre-book parking will deliver incremental non-aeronautical revenue to joint Thanks Again and Chauntry airport clients."
"Traveler loyalty (and the benefits of encouraging and rewarding it) has long been a priority for many of Chauntry's airport clients. We recognize the importance of ensuring our solutions encompass not just the core needs of pre-booking on-airport parking, but the extensive needs of e-commerce as a whole. Partnering with Thanks Again provides this opportunity and we are very pleased to introduce this to the market," explains Theresa Hughes, Chauntry CEO.
About Thanks Again, LLC
Thanks Again®, headquartered in Atlanta, is the world's only card linked, airport-centric coalition loyalty program. Its loyalty and engagement solution links members of the most popular rewards programs to airport parking, airport concession operators and local businesses to stimulate commerce, loyalty and customer value. The Thanks Again Traveler Loyalty Network now spans over 165 airports and is rapidly expanding throughout North America (U.S., Mexico, Canada) and Latin America this year. Through direct partnerships with leading international payment card networks, Thanks Again is positioned for global expansion in enrolled members, reward program partners and airport clients. For more information, contact Partner Development toll-free at (866) 808-2099 or partner(at)thanksagain(dot)com.
About Chauntry Corporation Ltd.
Chauntry, headquartered in Maidenhead, UK, is the world's leading specialist in airport pre-booking systems and was founded in 1991. Chauntry's Software as a Service (SaaS) solution, 'Parkspace™', is Level 1 PCI DSS accredited and is used by over 80 Airports across 4 continents to sell parking and other related travel products online and via Smartphone Apps. The solution provides a management platform and customer branded booking site that effectively delivers product and yield pricing control, reporting, CRM and e-marketing along with integration to parking equipment and other key systems.