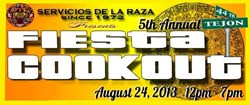 Denver, CO (PRWEB) August 06, 2013
Servicios de La Raza is hosting its fifth annual Fiesta Cookout on Saturday, August 24. The free cookout will offer live entertainment, a healing garden that provides traditional, holistic treatments and western medical screenings, a children's activities area, a custom car and motorcycle show, as well as free food on a first come, first served basis. The cookout will take place from 12 to 7 p.m. at Chaffee Park in Denver (43rd Avenue and Tejon St.).
"Servicios' Fiesta Cookout celebrates the beauty of our communities and breaks down the silos of economics class and race," says Rudy Gonzales, executive director of Servicios de La Raza.
In collaboration with HeyDenver and the Youth HIV Advocacy Coalition (YHAC), Servicios de La Raza will also be offering free HIV Testing at the Fiesta Cookout. This year, Servicios de La Raza anticipates over 12,000 attendees at the Fiesta Cookout.
Event sponsors include: ARC Thrift Stores, CH2M HILL, Davita Clinical Research, Denver Car Club, Denver Water, Councilman Albus Brooks, Councilwoman Judy Montero, Latin Life Denver, La Voz, O'Reillys Auto Parts, Pyramid Print & Graphics, Solera National Bank, University of Denver's Graduate School of Social Work and Xcel Energy.
Servicios de La Raza is a 40-year-old community-based organization dedicated to providing and advocating for comprehensive, culturally responsive human services to all Colorado communities in need. Servicios provides both direct services to unserved and underserved members of our community and speak out on issues that affect our community.
For more information about Servicios De La Raza, visit http://www.serviciosdelaraza.org.