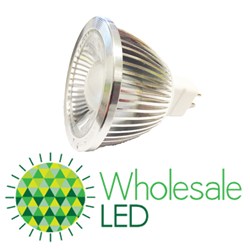 Because we positioned ourselves early, we can now offer a complete line of this more efficient technology at a lower price
(PRWEB) August 07, 2013
LED lighting retailer, WholesaleLED.com announced this week that it has upgraded much of its product line to newer, more energy efficient LED chipsets that will produce as much as 100 lumens per watt.
This is in contrast to the current energy efficiency standards required for Energy Star certification of only 50 to 55 lumens per watt. The upgrade allows the lights to use less energy, while producing even more light than before.
The newer LED technology is called 'SMD' (Surface-Mount Device) or 'COB' (Chip On Board), and are capable of producing up to 100 lumens of light for each watt consumed. This is a 66 percent increase in efficiency compared to the 60 lumens per watt of older high-powered chips commonly found on conventional LED bulbs.
"We were a very early adopter of the more efficient COB and SMD technology," said Eric Wang, WholesaleLED's Chief Technology Officer. "And, because we positioned ourselves early, we can now offer a complete line of this more efficient technology at a lower price than many of our competitors, most of whom are still selling bulbs using the old high-powered chipsets."
WholesaleLED.com's product line of 100 lumen per watt lights includes LED PAR20s, PAR30s, PAR38s as well as standard LED lights and MR16s.
"I believe we have one of the broadest selections of 100 lumen per watt LEDs on the market now," said Wang.
The energy efficient line of LED lights is now available at WholesaleLED.com.