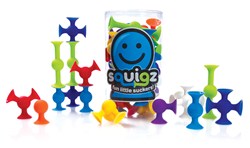 "By pulling together a number of different data points, we've identified what we believe will be some of the must-have toys and games for Christmas 2013."
Elkhorn, NE (PRWEB) August 08, 2013
For over a decade, Fat Brain Toys has been carefully monitoring toy trends through customer ratings, reviews and buying habits to identify the top toys for the upcoming holiday season. The compilation of data and experience has led to the creation of the Predicted Top Christmas Toys of 2013. The list will be updated weekly to reflect the latest trends for these dynamic new products. This online destination will make it easy for customers to monitor new product trends leading up to Christmas and Hanukah 2013.
"Each year a handful of toys rise out of virtual obscurity to become THE hot toy of the holiday season," explains Mark Carson, President and Co-Founder, Fat Brain Toys. "By pulling together a number of different data points, we've identified what we believe will be some of the must-have toys and games for Christmas 2013."
The early trends identify innovative new products like GoldieBlox, Squigz, and Kinetic Sand. Also included on the list are updated classics such as The Original Spirograph, Tinkertoys, and retro steel Tonka trucks. Other innovative new toys appearing on the list include Quut sand toys, Tenzi, YBike GLX and Yottsugo. See the entire list at http://www.fatbraintoys.com/specials/top_christmas_toys.cfm/.
For More Information on Fat Brain Toys
http://www.fatbraintoys.com/about_us/presskit.pdf