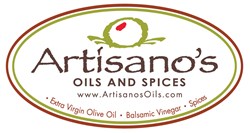 Great food doesn't have to be expensive or made by people who have extensive culinary backgrounds; it just needs fabulous ingredients and a pinch of love.
Indianapolis, Indiana (PRWEB) August 06, 2013
An old saying advises that those who waste not, want not—yet in communities across the country, huge volumes of perfectly good food go to waste every day. A Food rescue, hunger relief and culinary job training organization, Second Helpings, seeks to redeem that waste, and to feed those who are wanting—and local specialty food store Artisano's Oils & Spices is proud to support the organization's efforts. In an upcoming fundraising event, Artisano's will seek to give back to this worthy charity, which does much to feed the hungry all over Indianapolis.
"This is a concept that we really believe in," comments David Burcham, who founded Artisano's Oils & Spices. "This organization takes what would otherwise be food waste, and transforms it into a meaningful way to provide for the neediest members of our community. Artisano's has long donated spices and oils to Second Helpings, but we're excited to do something further to help them, and to draw attention to their noble efforts."
On a daily basis, Second Helpings staff members and volunteers rescue prepared and perishable food items from local retailers, wholesalers, catering companies, and restaurants—great, quality food that would nevertheless become waste were it not for Second Helpings' intervention. The organization then uses these food items to prepare hot meals—some 3,500 each day—that are served shelters, day cares, after school programs and senior centers. In addition, Second Helpings offers culinary training programs, designed to help struggling members of the community to obtain gainful employment in the food services industry.
According to Burcham, Artisano's Oils & Spices will be offering its support to Second Helpings in the form of a fundraising drive, to be held on Saturday, August 10. The event will take place at each of the Artisano's booths present at local farmer's markets—including Broad Ripple, Binford, Fishers, Carmel, and Zionsville. On this day, for every bottle of oil or balsamic vinegar that it sells, Artisano's will donate a sum of $2.50 to the efforts of Second Helpings.
The Artisano's owner continues by noting the importance of these efforts. "We'd like to support Second Helpings in whatever way we can, because we know how important their work is to the community," he explains. "By helping them through the donation of spices and other ingredients, we hope we can empower them to offer meals that are not only nourishing, but really tasty and delicious, as well. We encourage those in the community to learn more about Second Helpings, and also to join us in supporting their positive influence."
Further information about Second Helpings can be obtained at http://www.secondhelpings.org.
About:
Artisano's Oils & Spices features an array of unique and exotic oils, vinegars, salts, spices, and peppers from around the world. In addition, the store features delicious pasta and other gifts for chefs and food enthusiasts alike. Artisano's believes that great food doesn't have to be expensive or made by people who have extensive culinary backgrounds, it just needs the very finest ingredients. The staff at Artisano's gives customers the opportunity to taste before they buy and provides them with knowledge from industry experts and personal chefs to help them make the most of their culinary experience. The idea for Artisano's Oils & Spices began with owner David Burcham's own passion for food and love of travel. His goal is to bring the exotic flavors he has experienced all over the world to his native City of Indianapolis.
For additional information, contact: David Burcham, (317) 442-2133 or david(at)ArtisanosOils(dot)com