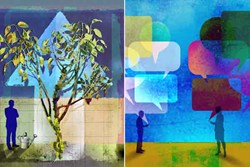 Roy's imaginative approach is making a real connection with our clients. We are thrilled that he continues to build his portfolio with us.
New York, New York (PRWEB) August 07, 2013
Illustration Source, a leading provider of high quality stock illustrations, is proud to announce that Roy Scott has added over 30 new images to his portfolio. Roy's work is a provocative hybrid of digital and mixed media mash-up. His design and illustration techniques have been written about in leading industry journals and on-line publications.
We invite you to view Roy's portfolio with Illustration Source.
According to Laura Daly, Manager of Marketing and Artist Relations for Illustration Source, " Roy is fast becoming one of our top artists. His imaginative conceptual approach to problem solving is a perfect fit for editorial, corporate, advertising, design and publishing venues looking to add originality to the mix."
About The Company
Illustration Source is a leading provider of high quality illustrations from the finest illustrators from all over the world. Illustration Source's collections provide top quality, cutting edge illustration.
The company is New York based and privately held. One of the major reasons for the success of the SIS collection through the years is its ability to gather a true international artistic community in which many of the artists and art buyers enjoy a congenial, creative and profitable relationship.
For additional information please contact Laura Daly at 212-849-2905 or via e-mail at daly(at)illustrationsource(dot)com or visit us on the web at http://www.illustrationsource.com.