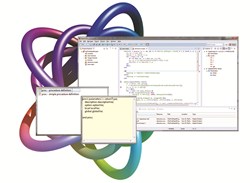 The Maple IDE provides a powerful, familiar environment for seasoned programmers, while giving new programmers valuable assistance getting started.
Waterloo, Canada (PRWEB) August 06, 2013
Maplesoft™ today announced a new member of the Maple™ product family, the Maple IDE. The Maple IDE, powered by DigiArea, Inc., is an integrated development environment for the Maple programming language that improves productivity by providing advanced tools for writing and managing Maple projects. The Maple IDE, which is based on the Eclipse™ platform, offers a customized industry-standard environment for medium- to large-scale Maple development projects.
The Maple language provides built-in knowledge of mathematical data structures and concepts, support for writing multi-threaded, parallel programs as well as a very rich library of existing commands and algorithms. Over 90 percent of the algorithms built into Maple have been implemented using the Maple programming language. This same language is available to any Maple user for writing scripts, implementing new algorithms and extending the Maple system. The Maple IDE makes it dramatically easier for Maple users to create, manage, and update libraries of Maple code.
Features of the Maple IDE include the ability to quickly browse and search through source hierarchies, automatic highlighting and formatting based on syntactic and semantic properties of the code, navigation, testing and much more. The Maple IDE assists developers in writing, updating, maintaining, and understanding code, so projects can be completed faster with fewer errors, and later enhancements can be made more easily.
"Together with our partner DigiArea Inc., we have created a modern development environment on top of the popular Eclipse framework," says Dr. Laurent Bernardin, Executive Vice-President and Chief Scientist at Maplesoft. "The Maple IDE provides a powerful, familiar environment for seasoned programmers, while giving new programmers valuable assistance getting started."
"We are excited to partner with Maplesoft to bring this new product to the Maple user community," said Oleksandr Shkliaiev, President, DigiArea. "Working with Maple IDE will put a beginner on the path to learning the Maple language faster, and advanced developers will find a full range of tools for professional Maple programming."
About Maplesoft
Maplesoft™, a subsidiary of Cybernet Systems Co., Ltd. in Japan, is the leading provider of high-performance software tools for engineering, science, and mathematics. Its product suite reflects the philosophy that given great tools, people can do great things.
Maplesoft's core technologies include the world's most advanced symbolic computation engine and revolutionary physical modeling techniques. Combined together, these technologies enable the creation of cutting-edge tools for design, modeling, and high-performance simulation.
Maplesoft's products help to reduce errors, shorten design times, lower costs, and improve results. The Maplesoft product suite includes Maple™, the technical computing and documentation environment, and MapleSim™, the high-performance, multi-domain modeling and simulation tool for physical systems.
Engineers, scientists, and mathematicians use Maplesoft products to enable them to work better, faster, and smarter. Maplesoft's customers include Ford, BMW, Bosch, Boeing, NASA, Canadian Space Agency, Canon, Motorola, Microsoft Research, Bloomberg, and DreamWorks, covering sectors such as automotive, aerospace, electronics, defense, energy, financial services, consumer products, and entertainment. With Toyota, Maplesoft founded the Plant Modeling Consortium to promote the development of new design techniques for automotive and related industries.
Visit http://www.maplesoft.com to learn more.