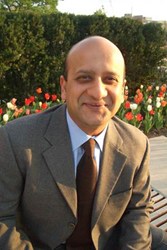 Mentor, OH (PRWEB) August 08, 2013
Roll-Kraft is pleased to announce the addition of Sanjay Singh to the company in the position of Executive Vice President. Mr. Singh comes to Roll-Kraft from MacLellan Services in Lexington, KY. He has 25 years of corporate finance and operational experience, spanning various industries, including tooling and commercial products.
Mr. Singh has a Master's of Business Administration degree from Gannon University, Dahlkemper School of Business in Erie, PA, as well as a Bachelor of Commerce honors degree from St. Xavier's College in Calcutta, India, along with executive education courses from Harvard Business School and GAP International.
Mr. Singh will serve as a key member of the company's executive leadership team, participating in all aspects of managing the business and overseeing financial planning for future growth.
Roll-Kraft is the leading provider of roll tooling to the worldwide tube & pipe and roll forming industry. The company has grown tremendously during its 50-year history. The addition of Mr. Sanjay Singh is expected to continue that progress into the future.
Roll-Kraft has its headquarters in Mentor, Ohio, and maintains other facilities in Frankfort, Illinois (Roll-Kraft Northern), and Ontario, Canada (Roll-Kraft Ltd.). The company phone number is (888) 953-9400 or (440) 205-3100, and the fax number is (440) 205-3110. Please also visit the website at http://www.roll-kraft.com. For easy and immediate contact with Roll-Kraft that transcends time zones and working hours, the website features Dr. Resolve. Users can simply complete and submit an on-line form and send it to Roll-Kraft for a quick response.