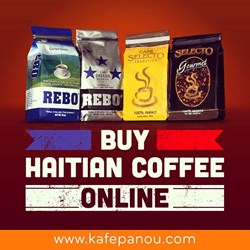 As our business expands, we hope to expose more people to delicious Haitian coffee while we increase awareness of, and appreciation for, Haitian coffee farmers
Miami, Florida (PRWEB) August 08, 2013
Kafe Pa Nou's wholesale coffee division is partnering with schools, churches and non-profit organizations to offer organic Haitian coffee for fundraisers and community events. Event organizers now have the opportunity to offer authentic Haitian coffee alongside other menu items.
"It is the perfect alternative to candy, popcorn, and other common menu items," says Fabien Dodard, CEO and Co-Founder of Kafe Pa Nou. "Not only is it an easy program to facilitate and generate profit, it is another way to get one-of-a-kind Haitian coffee into the hands of coffee lovers," Dodard says about the new initiative.
Another addition to Kafe Pa Nou is the portable Coffee Caterer. Party planners, business managers, and anyone planning an event can make it memorable by adding a full-service mobile gourmet coffee shop complete with a professional barista, the finest organic Haitian coffee, and everything needed to make delicious coffee drinks. According to Dodard, "this is a tremendous addition for guests to enjoy a unique experience at any event. It generates curiosity among guests who are quite impressed and eager to indulge in a new taste of their favorite beverage."
Jean Rene Faustin, CEO and Co-Founder of Kafe Pa Nou is excited about the future of Haitian coffee. "As our business expands, we hope to expose more people to delicious Haitian coffee while we increase awareness of, and appreciation for, Haitian coffee farmers," Faustin explains. Because Kafe Pa Nou's coffee is classified as Direct Trade, the company is able to exert more control over the quality of their products and work closely with Haitian coffee farmers.
ABOUT KAFE PA NOU Kafe Pa Nou sells organic, shade-grown Haitian coffee throughout the United States. For more information on fundraising with Kafe Pa Nou, the portable Coffee Caterer, or other wholesale opportunities, please visit http://www.kafepanou.com
###