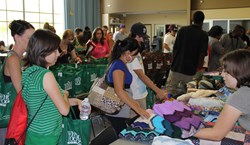 "These young people are facing significant challenges as they move on to college and these donations provide some important support for them. It demonstrates we care about them as individuals."
Rocklin, CA (PRWEB) August 09, 2013
As the school year begins, Sierra College is taking an extra step to ensure that one group of students gets off to a good start.
The Sierra College Foundation, in partnership with numerous community organizations and businesses, is providing more than 100 care-packs to new and returning students who were previously served by the state's foster care system.
The packs are filled with basic hygiene items, school supplies, computer flash drives, vouchers for books, calculators, food gift cards, quilts and pillow cases, etc. For students who don't have a laptop, the Foundation works to provide a gently-used laptop.
"We are honored to be able to help these deserving students as they return to school without the family support system most of our students have," said Sonbol Aliabadi, Executive Director of the Sierra College Foundation. "Since 2007, our community has rallied together to give these students some basic items to better prepare them for college and allow them to devote their attention to their studies."
A welcome luncheon is held one week prior to the start of the semester, this year, on Wednesday, August 21st, where each former foster youth student receives their care-pack and connects with donors who have generously given to this project. Students often say that these gifts are extremely appreciated, but knowing that someone cared enough to give this to them makes the biggest difference in their lives. "Thank you for your help! I have been worried and wondered how I would ever make it through College without any help. Now with your generosity and the kindness of your heart, my dream of going to College is a reality," said Rachel, a former foster youth attending Sierra College.
Every year in California, an estimated 4,000 foster youth transition from dependents of the foster care system into emancipated adulthood at age eighteen. Less than 3% of this population will attend college. The California Community College system serves approximately 9,000 former and current foster youth and Sierra College will serve 100-140 of these students. These students face an extraordinary challenge to not only pay for their basic needs, but to also pay for college tuition, books, parking permit, and school supplies, which totals about $2,000 per year. This does not include the additional $3,350 it costs per semester to live on campus in the dorms.
In November 2007, a group of staff and faculty at Sierra College decided to take action on the growing lack of resources for former foster youth. They came together and formed the College Transition Support Team (CTST). This volunteer group is a partnership between community foster youth services professionals and Sierra College faculty and staff addressing the needs, concerns and issues that affect the success and retention of former foster youth students attending Sierra College. In the midst of compiling educational resources for foster youth, the CTST found a major gap in the services provided to these students. That missing piece was how to address the financial need that exists to purchase basic hygiene products and food. The current FFY project was born from this initial group.
Major funding for the Care-Pack project came from the City of Roseville Citizens Benefit Fund & REACH Fund. This year, eight dorm rooms have also been "adopted". This means that when these students walk into their room for the first time, it will be outfitted with new bedding, and other items to make their dorm feel like home. Thank you to Soroptimist International of Loomis Basin and other private donors for making these students feel at home.
"We are very grateful for the support provided by the City of Roseville Grant Commission, community organizations and individual donors," said Dr. Linda Williams, Financial Aid Program Manager at Sierra College. "These young people are facing significant challenges as they move on to college and these donations provide some important support for them. It demonstrates we care about them as individuals."
The success of this project is evident by the increased retention rate. In the past three years, Sierra has seen an increased retention rate from 41 percent to about 81 percent of former foster youth who stay in College.
If you would like to offer your support to this program or learn more about the Sierra College Foundation, visit http://www.sierracollege.edu/foundation/. Contact the SC Foundation at 916-660-7020 or foundation(at)sierracollege(dot)edu.