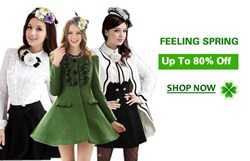 (PRWEB) August 08, 2013
4leafcity.com is a well-known store of Clubwear mini dresses, offering many hot styles of Clubwear mini dresses, Today, the company has launched a promotional offer on all its trendy Clubwear for women.
According to a spokesman for the company, every customer can enjoy a discount, up to 49% off, when checking out. 4leafcity.com hopes to make each girl feel like a hot star or a royal princess at a party. The dresses are incredibly affordable, and do well in comparison with their more expensive counterparts.
"We are very excited to introduce the promotion. We are the unique source that provides people with a direct access to Chinese traditional clothes (see: http://www.4leafcity.com/product-chinese-traditional-clothes-003003.aspx). We also employ a number of buyers to examine the current industry trends and our designs are very much in vogue at this moment in time. We have a lot of new designs in stock, and they are available at affordable prices now. Make sure you don't miss out as stocks will not last forever," says the CEO of the company.
In addition, 4leafcity.com has recently updated its website. The company offers a full line of cheap men's shirts, Chinese traditional clothing, fashion accessories and sportswear. The company hopes that its current and prospective guests will enjoy its designs and dresses. Similar big discounts are offered by 4leafcity.com.
About 4leafcity.com
4leafcity.com is China's leading company operating though the online platform 4leafcity.com. Over the years, The company has assisted thousands of clients in exotic women's dresses, elegant men's dresses and various accessories for men and women. It is known for its high quality and low rates.
For more information, please visit http://www.4leafcity.com.