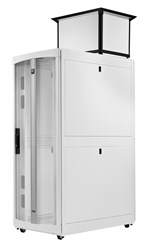 It is made with the quality you know and trust from CPI.
Westlake Village, CA (PRWEB) August 16, 2013
Chatsworth Products (CPI) now offers the newest generation of F-Series TeraFrame®, which features an enhanced frame design, new sizes and panels, easier equipment rail adjustment and smarter airflow management to keep pace with today's Enterprise Data Center environment.
Airflow and ease-of-installation enhancements make the TeraFrame Gen 3 one of the most advanced cabinets available. Several updates and improvements have been made to the new generation including:

A wider Vertical Exhaust Duct on 800 mm models to improve airflow and allow for higher kW
52U (rack-mount spaces) available as a standard height
Improved front door hinge design and spring loaded hinge pin, which allows quick and effortless door removal and installation
Half-height side panels are easier to handle, decrease weight and reduce damage incidents
This generation of TeraFrame supports up to 3,000 pounds and also meets the requirements of the new UL2416 Listing, which requires standardized load testing. This cabinet has been tested to four times weight capacity.
Additionally, the TeraFrame Gen 3 is perfect for high-density server applications. It features a 6-slide frame style that supports rails mid-height, allowing increased load ratings and half-height accessories. The upgraded slide design and reduced hardware simplifies rail adjustment and can decrease labor requirements by as much as 60 percent.
As always, the new F-Series TeraFrame cabinet provides all of the thermal and cable management features you have come to expect from CPI, as well as a wide selection of accessories to complete your installation.
This extensive list of improvements makes the F-Series TeraFrame Gen 3 Cabinet System one of the most advanced cabinets on the market, and it is made with the quality you know and trust from CPI.
For a complete list of enhancements or to configure your own custom cabinet, visit our website at http://www.chatsworth.com/f-series/.
About Chatsworth Products:
Chatsworth Products is a global manufacturer providing voice, data and security products and service solutions that optimize, store and secure technology equipment. CPI products offer innovation, configurability, quality and value with a breadth of integrated system components, covering virtually all physical layer needs. Unequalled customer service and technical support, as well as a global network of industry-leading distributors, assures customers that CPI is dedicated to delivering products and services designed to meet their needs. Headquartered in the US, CPI operates global offices within the US, Mexico, Canada, China and the United Kingdom. CPI's manufacturing facilities are located in the US, Asia and Europe.
CPI is listed with the General Services Administration (GSA) under Federal Supply Schedule IT 70. Products are also available through GSA Advantage and through Government Wide Acquisition Contracts (GWACs), including GSA Connections and NITAAC-ECS III (http://www.chatsworth.com/gov).
All products quoted are subject to availability based on manufacturing capacity, and shipping dates should be considered estimates only. While every effort has been made to ensure the accuracy of all information, CPI does not accept liability for any errors or omissions and reserves the right to change information and descriptions of listed services and products.
©2013 Chatsworth Products, Inc. All rights reserved. CPI, CPI Passive Cooling, MegaFrame, Saf-T-Grip, Seismic Frame, SlimFrame, TeraFrame, GlobalFrame, Cube-iT Plus, Evolution, OnTrac, QuadraRack and Velocity are federally registered trademarks of Chatsworth Products, Inc., eConnect and Simply Efficient are a trademark of Chatsworth Products, Inc. All other trademarks belong to their respective companies.