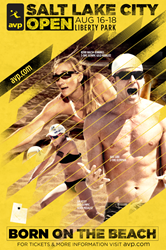 Costa Mesa, CA (PRWEB) August 13, 2013
The 2013 AVP Pro Beach Volleyball Tour is set to kick off the weekend of August 16-18 with the AVP Salt Lake City Open. The three day event will be held in SLC's Liberty Park and will feature many of the world's top beach volleyball players; including three-time Olympic Gold Medalist Kerri Walsh Jennings, 2008 Olympic Gold Medalists Phil Dalhausser, and Todd Rogers, 2012 Olympic Silver Medalists Jen Kessy and April Ross, and Olympians Sean Rosenthal and Jake Gibb – all of whom have been signed exclusively by the AVP.
"We are tremendously excited to be launching the 2013 AVP Pro Beach Volleyball Tour in Salt Lake City," says AVP Managing Partner Donald Sun. "Although this is the first time the AVP has come to Salt Lake City, the city has an enormous beach volleyball community and we're really looking forward to a great first tournament."
"They told me this year it was coming here. I didn't believe it," said AVP player and Bountiful, UT native Jake Gibb. "This is a huge opportunity for Utah. Once people come and see the event, they will be sold on it. The athletes are so accessible."
Gibb will be appearing at the Salt Lake City Open and at the rest of the stops on the AVP Tour with his partner, Casey Patterson, himself a former BYU player.
In spite of the fact that there are already three permanent sand courts at Liberty Park, the AVP has plans to truck in an additional 1,500 to 1,700 tons of sand to make at least five courts. The tournament will also feature a temporary stadium that will serve as a center court that will seat 1,600 spectators.
Tickets for the AVP Salt Lake City Open include three-day admission to all beach volleyball matches in the tournament as well as admission to Vendor Village, the ultimate beach volleyball festival, which will feature interactive sponsor activations, athlete appearances, food and drink vendors and more.
The schedule for the AVP Salt Lake City Open will be as follows:

Friday (10am-6pm) – Main Draw
Saturday (9am-6pm) – Main Draw
Sunday (9am-6pm) – Semifinal and Final Rounds
The semifinal and final rounds of the Salt Lake City Open will air live on CBS Sports Network on Sunday August 18 at 4pm EST, 2pm MST and 1pm PST.
The event will be presented by American First Credit Union. Sponsors for the event include Whole Foods, Gold's Gym, Rubios and the Utah Sports Commission. Additional sponsors include Miller Lite, Innovative Motors, Aces Athletics, Marriott City Center, Orvin Apparel and Wasatch Beach.
Following the Salt Lake City Open, the AVP Tour will move to Manhattan Beach and also features stops in Atlantic City, St. Petersburg and Cincinnati.
The 2013 AVP Pro Beach Volleyball Tour will stop in seven cities total:
Salt Lake City, Utah – August 16-18
Manhattan Beach, CA – August 23-25
Cincinnati, Ohio – August 31-September 1
Atlantic City, NJ – September 6-8
St. Petersburg, Fla. – September 14-15
Santa Barbara, Calif. – September 28-29
Huntington Beach, Calif. – October 19-20
ABOUT THE AVP
The AVP (Association of Volleyball Professionals) is a leading lifestyle sports and entertainment company that produces, markets and distributes professional beach volleyball events. Organized in 1983, it has operated the industry's most prominent national touring series, the AVP Pro Beach Volleyball Tour, featuring the top American men and women competitors in the sport including athletes who have won numerous Gold, Silver and Bronze Olympic medals. Synonymous with the sport and the most recognized brand in the space, the AVP was recently acquired by new ownership that has set out to solidify its leadership position. Please visit http://www.avp.com for additional information.