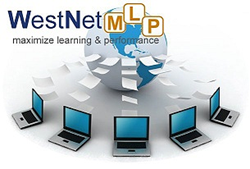 We are very excited to offer the learning community a turn key Cloud Hosted solution with the savings of our Perpetual Software Licensing Program.
Wheat Ridge, Colorado (PRWEB) August 13, 2013
WestNet MLP an enterprise Cloud Based Learning and Performance Management Solution, announced the global availability of their Perpetual License Option for the MLP solution.
With the advancement of the Cloud enterprise delivery, the MLP platform offers significant savings to enterprise organizations. There is no need to purchase and install software on your servers, and worry about software upgrades or hardware management.
MLP Cloud based Learning Management System stores data centrally hosted on secure servers via Microsoft Azure Cloud and accessed by users at the server closest to them, providing premium performance for content delivery of all types .
"We are very excited to offer the learning community a turn-key cloud hosted solution with the savings of our perpetual software licensing program. The perpetual software license is usually equal to what an organizations would pay for 1.5 – 2 years of a hosted per user system plan. Pay once and there no reoccurring annual system or user fees." said Joe Scullion, President of WestNet Learning.
Perpetual License Program Specifics:
Example of Cost Savings:
20000 users – Traditional pay per user plan $100,000 per year, or $1,000,000 over 10 years.
20000 users – Perpetual License Program one time fee of $200,000
Hosting and Equipment fees: (Perpetual License Program)
Hosted on Microsoft Azure; Cloud Environment:
Virtualization for hardware expansion and global servers and data centers for premium performance.
Hosting and Equipment "Fees based on Actual use and Equipment Requirements"
Example of Azure monthly charges for 20,000 users & up to 10 gigabyte DB - $800-$1000/month
(The Azure fees billed monthly)
Support Option 1: Purchase Support Based on Need
New releases – choose only what you want. – One time charge per new feature.
Pay only for the support you use. – Administrate Support and custom programing
Support Option 2: Annual Support Agreement
Software Assurance Program – (Software releases, Software Support and Administrator training)
WestNet MLP has been selected as the Training Industries "Top products to watch" list 3 years in a row.
About WestNet Learning
Founded in 1996 and located in Wheat Ridge, CO, WestNet Learning is a leading global provider of learning products to corporate enterprises, academic institutions, associations, government agencies, and training suppliers. Learning products include: Hosted Learning Management System (LMS), eLearning courses and systems, textbooks, e-books, prescriptive assessments, plus e-learning and classroom delivery tools.
Today, organizations large and small from around the world have adopted the WestNet Hosted Learning LMS to provide "affordable" world-class e-learning and classroom training registration to learners worldwide. The WestNet Hosted Managed Learning products allow organizations to rapidly create, deliver, and measure interactive learning over the Internet and intranets. WestNet Learning is a privately held, self-funded, S corporation, which has progressively scaled since 1996.​
Contact Information
http://www.westnetmlp.com
WestNet Learning:
(888) 452.6902
info(at)westnetlearning(dot)com