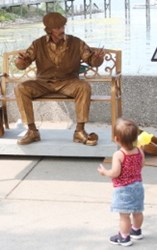 Hersey, MI (PRWEB) August 13, 2013
The young people at Eagle Village often arrive disheveled, unkempt, sullen with their eyes to the floor. They have thick layers of anger, distrust, hurt and so many other emotions covering them. Not unlike Celtic Kilroy with his layers of bronze paint covering this true persona, at first glance one only sees a hard statue; someone cold and unreachable.
For Celtic Kilroy, all it takes is a little bit of attention and his masterful music comes to life. The statue is no longer hard but a living, breathing expression of joy. How much more so is that the case with the kids who come through Eagle Village's programs; some caring attention to the hurting places inside, a little positive reinforcement and an honest message that they are worth something and they gradually begin to see hope for their futures. It's at that point miracles start to happen.
Matt Kilroy, has a great love for his art as well as for Eagle Village and the children they help. So much so, that he has entered ArtPrize in Grand Rapids with his unique and delightful living statue character. All dollars donated to his display throughout the event to help make his character come to life will be given to Eagle Village, and Matt has also committed to donating HALF of his prize winnings to Eagle Village should he place in the top ten winners!
The only way he can accomplish this generous feat is with the help of thousands of ArtPrize friends!
For those who will attend ArtPrize, please take a moment to vote for Celtic Kilroy and Eagle Village. Those who have never been to ArtPrize but always wanted to go, this is the year to do it! Once registered at Art Prize which begins September 18, visitors are able to vote for Celtic Kilroy. Help Abused & Neglected Children By Voting for Celtic Kilroy #54421.
ONE VOTE can make the difference.
Eagle Village is a non-profit family treatment center providing Intervention Services and Camps, Residential Treatment, Foster Care and Adoption services for all counties in Michigan. If you know of a family in crisis that may benefit from these programs, contact Eagle Village at 231-832-2234. http://www.eaglevillage.org/.