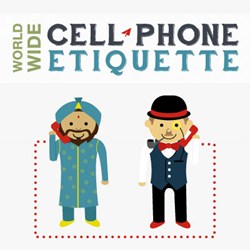 "This all started with the idea of finding out what is considered 'proper' in other countries, and blossomed into a globe spanning endeavor, it's truly great to be able to showcase the differences and similarities of so many great nations!"
Wichita, KS (PRWEB) August 12, 2013
RepairLabs, an express-ship device repair center, has compiled the data to create an infographic that shows the differences in what is considered common phone etiquette in several different countries. Initially the idea was to find out what was considered impolite while using the phone, but it grew into a much bolder idea.
The idea was to gather information on the most diverse group of countries possible. RepairLabs gathered facts, greetings, and parting words for several countries, including China, Japan, Brazil, Russia and many more.
"This all started with the idea of finding out what is considered 'proper' in other countries, and blossomed into a globe spanning endeavor; it's truly great to be able to showcase the differences and similarities of so many great nations!" were Community Director for RepairLabs, DJ Dixon's thoughts on the common etiquette of phone usage around the world.
With the countries chosen, RepairLabs began to combine the information into an infographic that would give a glimpse into the common phone etiquette of several very different countries.
The results of the study showed that countries who have had cell phones since the beginning have developed what's considered 'proper phone etiquette' as well as several unspoken rules of using your cell phone in public, while countries that are still more in the infantile stage of cell phone usage are less aware of the things we consider common courtesy, such as not talking loudly in public, using your phone in a public setting like a restaurant or movie theater, and answering their phones during a face-to-face conversation.
When asked if this study shined a negative light on these developing countries, Phoebe Watson, a bi-lingual employee of RepairLabs stated that, "Though these findings may give the appearance that we believe these countries are less developed, and the people are rude in comparison to us, that's not the case. These countries simply haven't had the time yet to develop proper phone etiquette. We're not perfect and neither are they, we all have room to expand when it comes to our phone etiquette, and I just hope that this information can help bring us all a little bit closer on our small planet."
About RepairLabs.com: RepairLabs was founded in 2009 to provide consumers with an excellent and affordable repair shop for Apple devices, and has continually expanded until now, where they cover almost all major mobile electronic devices. Nationally recognized as a leading source in repair knowledge, the RepairLabs blog has consistently delivered cutting-edge analysis and reports and has been cited on countless authority news hubs, such as; TechMeme.com, Forbes.com, and theVerge.com. Learn more at http://www.repairlabs.com/ or call 1-888-755-1115.
DJ Dixon
(316) 869-2865
RepairLabs.com