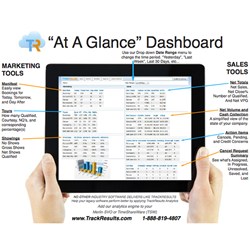 Orlando, Florida (PRWEB) August 10, 2013
TrackResults, a cloud-ware business application that specializes in tracking the performance of sales and marketing professionals within the timeshare industry, sees continued growth at an accelerated pace.
In July 2013, the sales management system provider has announced seven new clients; a record month for the Salt Lake City, UT based Technology Company. These clients include: Empowered Partners, Millennium International, Preferred Travel Networks, United Reservations, OnDemand, Payless Vacations and TravelDeals Vacation Club.
"We decided to partner up with TrackResults, because we cannot find any data solution that even comes close to the raw power and flexibility we see in the analytics available within the TrackResults system. To be able to utilize such a comprehensive and polished system will enhance our ability to exceed our clients' expectations even further," said Juan Pineyro of OnDemand, a lead generation specialist.
TrackResults software provides 10,000 built-in reports to enable clients to view sales and marketing team data in countless ways, providing invaluable sales analysis and business intelligence in real time while also offering predictive reporting based on historical performances.
Accessible as a web application on any desktop, laptop or mobile device, this powerful timeshare software and lead tracking system offers timeshare resort operators and suppliers the opportunity to really visualize sales and marketing personnel performance on an individual or team basis, identifying what's working as well as areas for improvement.
For more information on TrackResults Software, visit http://www.trackresults.net or call +1 888-819-4807 or visit their Facebook page at https://www.facebook.com/pages/TrackResults/130859730308862
About TrackResults
TrackResults' cloud-ware business application has helped almost 250 sales and marketing centers track and analyze more than 20,000 sales and marketing professionals. The software is capable of tracking results of teams, organizations, sales-forces and marketing campaigns. Their mission is to sharpen and provide the competitive edge to every team that wants to raise the bar, and get to the next level of performance and profitability. For more information, visit http://www.trackresults.net