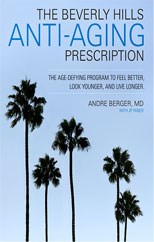 "For an anti-aging program to be successful, it is essential to improve the environmental habitat in which our genes live. His book equips readers with specific tools needed to have an 'environment detox'
Beverly Hills, CA (PRWEB) August 12, 2013
Dr. Andre Berger, a world renowned anti-aging specialist, announces the launch of his new book, The Beverly Hills Anti-Aging Prescription this month. Taking a different approach to anti-aging than lotions and serums, Dr. Berger focuses on wellness starting from within to help his patients look better, feel younger and live longer. With an east-meets-west approach, Dr. Berger shares the secrets to effectively turn back the hands of time.
With a foreword written by actress Anne Heche, The Beverly Hills Anti-Aging Prescription addresses the essential elements for optimal aging - including nutrition, exercise, sleep, stress management, hormone replacement therapy and environmental detox, among other points. At his Rejuvalife Vitality Institute in Beverly Hills, Calif., thousands of patients regain their youthful vitality through Dr. Berger's customized lifestyle plans. Detailing the fundamentals of the program he maps out for his patients, the book lays out a plan for life that is straightforward and easy to follow.
Dr. Berger provides a fresh perspective on age, explaining, "For an anti-aging program to be successful, it is essential to improve the environmental habitat in which our genes live. His book equips readers with specific tools needed to have an 'environment detox' to properly nourish and cultivate the best internal and external surroundings for aging, while managing and decreasing stressors on the body. He also discusses the benefits of minimally invasive cosmetic procedures to enhance the anti-aging experience.
The Beverly Hills Anti-Aging Prescription is available in both paperback and e-book on Amazon, Barnes & Noble, Nook, Kindle, Sony, Kobo & Overdrive starting August 2013. For more information about the book, please visit: http://www.rejuvalife.md. For images, additional information or to schedule an interview with Dr. Berger, please contact Spotlight Communications Group at: Candis@SpotlightCommGroup.com or at (310) 613-1626.
About Dr. Andre Berger:
Dr. Andre Berger is the founder of Rejuvalife Vitality Institute in Beverly Hills, Calif. – one of the premier anti-aging and cosmetic practices. With more than 30 years of experience in the industry, he is considered a pioneer behind many of today's latest anti-aging and cosmetic treatments. Dr. Berger strongly believes in personalized patient care, education and lifestyle changes and his expertise and treatment regimens have been featured on CNN, Fox News, Today Show, E! News, Entertainment Tonight, Inside Edition, Vanity Fair and Chicago Tribune, among many other outlets.