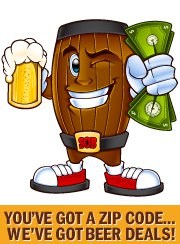 Houston, TX (PRWEB) August 15, 2013
Recently, SaveOnBrew.com – the world's only beer price search engine – rolled out a mobile app for iPhones, Droid and Amazon Kindle that lets customers shop local beer prices on their mobile devices. Although the company has had a mobile-friendly site for years, the app is a quicker, easier way to access cheap beer deals and maps to retailers selling beer. The app is free of charge, but the tool is just as handy for business owners as it is for consumers, says SaveOnBrew founder Mark Davidson.
"One thing we learned is that mobile app development is expensive!" Davidson explains. "So, we thought: why not offer the option for retailers to break into the mobile marketing world by using SOB as their mobile app, thus saving them on the time, money and hassle of developing their own mobile app?"
Mark Lenzi of Franklin Liquor in Massachusetts says the SaveOnBrew app has been a blessing for their store. "On our marketing materials, we tell customers, 'To see all of our great deals, download the SaveOnBrew app.' Since we list all our prices at SaveOnBrew, it serves as no cost promotion for us, so it's a win-win situation," Lenzi explains.
He adds, "We've always wanted to create an app that would give people driving directions to our store and update them on our beer sales because we truly believe mobile is the future of advertising. But it's such a cost-prohibitive, competitive market and we really didn't know how to begin the process. Our partnership with SaveOnBrew has been a fruitful one."
Mark Davidson invites beer retailers to reach out to him directly to set up a no cost partnership. All retailers listed on the site are free to promote the SaveOnBrew app as their own. "People always ask me why I'm doing this at no cost," Davidson says. "My answer is two-fold. First of all, I love beer. It's my passion. I love helping people find good deals on beer and I would do it whether I'm making money doing so or not. Secondly, our website is all data-based, so the business is only as good as the information we receive. Obviously, the more stores and beer brands we can list, the better! To make SaveOnBrew as accessible to all, it has to be free."
The new SaveOnBrew app can be downloaded at no charge from the Google Play, iTunes and Amazon marketplaces.
More information can be found at SaveOnBrew.
# # #
About SaveOnBrew.Com: Founded in 2010 to help thirsty beer drinkers across the United States find the lowest advertised prices for one of the world's most popular beverages.