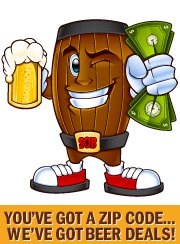 Houston, TX (PRWEB) August 16, 2013
SaveOnBrew.Com, the world's only beer price-search engine, recently released applications for iPhone, Droid and Amazon Kindle. Site founder Mark Davidson explains the thought process into giving away the applications at no charge.
"This [pricing the applications] was probably one of the most hotly contested topics we've had to debate internally," said Davidson. "We took the time to poll our user-base and see how they felt, and where they saw the value of the SaveOnBrew experience."
The application, available on iTunes, Google Play, and Amazon Marketplace, displays advertised beer deals based on the users zip code.
"We've always had a strong reaction to SaveOnBrew. People love the idea and, maybe more, the simplicity of the idea. We can really help beer drinkers save some serious money."
As they got closer to the publication of the applications, the Texas-based company debated a number of ways to price the applications.
"It's easy to get stars in your eyes," says Davidson. "'What if we sell ten million copies at one dollar per copy! We'd be rich!' Of course, you have to balance that with the fact that people very well may be turned off by paying money for anything. It's just the way our culture skews right now. People expect no-cost apps, and if it's a good product, they'll come back. That's where the opportunity comes in. Putting out an excellent product that brings people back over-and-over again."
At the end, they looked towards their charter to guide their pricing decision.
"We want to help people save money on beer. Charging for an application seemed counter to that goal. Disingenuous. Once we were able to verbalize that, the idea to give the applications at no cost was easy," Davidson explained.
To cover the substantial development costs, SaveOnBrew has opted to insert ads into the applications.
"We are a business and, at the end of the day, we need to make money and cover our costs. The ads are designed to be products or services geared towards the beer drinker. We're not idiots, we know people would rather not have to deal with ads, but we hope that the fact that the app is free and they're finding great deals on beer outweighs the intrusion of the ads."
Beer drinkers can find the free app on the Google Play marketplace and the iTunes store. Non-mobile users can get the same experience at http://www.saveonbrew.com.
# # #
About SaveOnBrew.Com: Founded in 2010 to help thirsty beer drinkers across the United States find the lowest advertised prices for one of the world's most popular beverages.