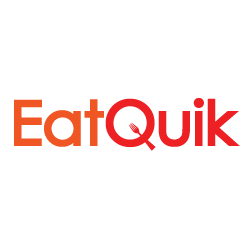 Who wants to be stuck in Miami traffic on a half our lunch break?
Miami, FL. (PRWEB) August 14, 2013
In early September, Miami food delivery startup company, EatQuik, will launch an easy to navigate food delivery site for young, busy locals to order food fast online with no extra fees added to the regular prices charged by restaurants and delivery services. The bi-lingual (English/Spanish) site will feature local favorites all in one place and will include menus, reviews, descriptions and images. Starting in Downtown Brickell, EatQuik aims to branch out to South Beach and eventually cover the entire Miami area.
"Who wants to be stuck in Miami traffic on a half our lunch break?" says Batuhan Gulerbasli, Owner of EatQuik. "We realized that there are not many options available for people to order food online, and that many of them were not even local sites. That's why we decided to launch EatQuik, and one day hope to become Miami's first destination for ordering food online."
EatQuik will offer Miami locals a new customer focused and user-friendly food delivery site where they can find a variety of restaurants with detailed descriptions and images of the food they will be ordering as well as trusted reviews from the public. This will work in the startup's favor as many of their competitors have very few graphics of the restaurants and their menu items. In addition, descriptions of the dishes are also sometimes vague and lacking content. Not to mention that they are not translated for the Spanish speaking community.
"Our customers will have many filtering options available to them. They can choose to browse restaurants, food categories, price points or other criteria. Once they've picked a restaurant, and added food items in the cart for check out, they can either pay by cash on delivery or credit card. The order is then sent to the restaurant via fax or email, and shortly after an automated call will be placed to the restaurant to confirm the receipt of the order. Estimated delivery time will be included in the confirmation email, and in most cases, one of the restaurant's delivery drivers will deliver the order," explains Batuhan.
Live chat reps will be standing by to check the status of orders around the clock, and customers can also reach them by email or phone 24/7. The reps will let customers know the latest order status given to them by the restaurant.
Owned by Batuhan Gulerbasli, EatQuik is Miami's only online local food delivery service. The startup company anticipates the launch of its bi-lingual site in early September, which will feature a variety of local favorites complete with full menus, reviews, descriptions and images of the restaurants and food. EatQuik will routinely offer coupons and deals to both existing and new customers.
###
To partner with EatQuik to promote your restaurant or to speak with Batuhan Gulerbasli, please call (786) 300-8558 or email batuhan(at)eatquik(dot)com.