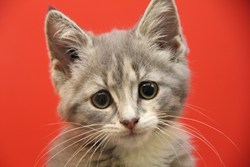 We're seeing too many cats coming into the shelter, and we simply do not have the space to house them all.
Winnipeg, MB (PRWEB) August 13, 2013
Over 1,750 stray and abandoned cats have arrived at The Winnipeg Humane Society between May 1 and Aug. 11. Around 600 have come through the shelter doors in July alone. These numbers are expected to increase in the coming weeks and the shelter is presently at capacity. The WHS is having an event where adoption fees are waived in order to make space for the approximately 220 cats that arrive weekly.
On Friday, August 16 from 11 a.m. to 7 p.m., there will be no fees to adopt a cat over four months of age. Kittens under four months will be $25 to adopt. The normal adoption fee for kittens is $179.
"We're seeing too many cats coming into the shelter, and we simply do not have the space to house them all," said Judy Dean, Adoptions Manager at The WHS. "We'd much rather see these cats go to loving homes than face the alternative."
While The WHS offers programs like SNAP (subsidized spay and neuter assistance program) and TNR (Trap Neuter Release) to combat Winnipeg's cat overpopulation crisis, the shelter still experiences an influx of cats every summer.
"Cats start their mating season when it's warm outside, so hundreds of cats are reproducing – resulting in even more cats looking for homes," said Dean. "These cats wind up at The Winnipeg Humane Society."
Adoption fees will be waived, but the same adoption process will be in effect. Potential adopters need to bring ID with current address and can expect the process to take over 40 minutes. All cats adopted from The WHS are spayed/neutered, have a tattoo ID, first vaccination, six weeks of Pet Secure insurance and a two-week health check. The WHS is asking for donations of wet cat and kitten food.
The Winnipeg Humane Society is a registered charity and non-profit organization whose mission is to protect all animals from suffering and to promote their welfare and dignity. Funded primarily by donations, The WHS takes in between 8,000-9,000 animals on an annual basis. All pets offered for adoption and sale have been spayed or neutered, received necessary shots and treatments, and a behavioural assessment. For more information on The WHS, please visit winnipeghumanesociety.ca.