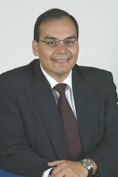 "The Forum will bring together high-level industrialists, policy makers, and key societal stakeholders across the globe for a cross-exchange of ideas on major macroeconomic trends and manufacturing innovation."
Arlington, VA (PRWEB) August 13, 2013
Intelligent Manufacturing Systems (IMS) is pleased to announce that Professor Dr. Arturo Molina, Vice President of Research and Technological Development, and former Dean of the School of Engineering and Architecture, Monterrey Institute of Technology (Tecnológico de Monterrey, Mexico), will be participating as a speaker at the World Manufacturing Forum 2013.
The Forum will be held October 22-23 at the Ronald Reagan Building & International Trade Center in Washington, D.C. Molina will be participating in the session "Workforce Education and Human-centered Manufacturing" on the afternoon of Tuesday, October 22, 2013.
In addition to extensive consulting work and participating in seminars and conferences throughout the world, Dr. Molina is the author of over 65 scientific papers in journals, conferences and chapter books. He is the co-author of Handbook of Life Cycle Engineering: Concepts, Models and Technologies (Springer, 1999). His current research interests include information systems support for concurrent engineering/product lifecycle management, information modeling for design and manufacturing, enterprise integration engineering, business process management, technology management, benchmarking and technologies for global manufacturing.
Dr. Molina received his PhD in Manufacturing Engineering at Loughborough University of Technology, England in July 1995, his University Doctor degree in Mechanical Engineering at the Technical University of Budapest, Hungary, in November 1992, and his M.Sc. degree in Computer Science from the Monterrey Institute of Technology (Tecnológico de Monterrey), Campus Monterrey, in December 1992.
This year, with the theme of "The Way Forward to Global Prosperity through Intelligent Manufacturing Collaboration," the Forum will focus on cooperation needed to create a global environment for sustainable economic success through sharing resources, creating and supporting common platforms for standards and interoperability for emerging technologies, solving storage and knowledge-mining challenges for ever-increasing amounts of data, and finding innovative ways to leverage applied R&D investments. The event will also discuss the key innovation differentiators of technology and skills, and the role of educational institutions and companies in training the next-generation of workers in the highly technical field of manufacturing.
The Forum will bring together high-level industrialists, policy makers, and key societal stakeholders across the globe for a cross-exchange of ideas on major macroeconomic trends and manufacturing innovation. The Forum is sponsored by the international Intelligent Manufacturing Systems program and its member countries and is open to international sponsorship from government, industry, and institutions.
To receive an invitation to WMF 2013, please contact info(at)worldmanufacturingforum(dot)org. For more information and to register for this event, please visit online at http://www.worldmanufacturingforum.org/Pages/default.aspx .
About IMS:
IMS is an industry-led, international business innovation and research and development (R&D) program established to develop the next generation of manufacturing and processing technologies through multi-lateral collaboration. We provide global services to institutions from our supporting Regions including the European Union, Mexico, Switzerland, and the United States of America. Other Regions are pending membership, and others are encouraged to join the IMS program.
IMS offers international consortium building and coaching services provided at no charge to researchers from member countries, a listing of projects seeking partners, and a project database with valuable research information. IMS is also a premier sponsor of the World Manufacturing Forum where high-level government officials and industry executives discuss issues and solutions to challenges in manufacturing.