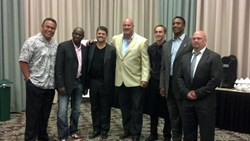 Phoenix, AZ (PRWEB) August 13, 2013
After a strong start to 2013 David Gergen, President of Pro Player Health Alliance, plans to end the year in the same fashion. Recently he announced a confirmed Pro Player Health Alliance (PPHA) event with NFL legends in New York this year and potentially one in Boston as well. Although event specifics such as dates, locations, times etc. have not been released, Mr. Gergen has said he plans on these being some of the most successful events yet. "I'm really excited to end the year the same way we started; and that's by getting these players treated as well as their fans. Even if you aren't a fan, you owe it to yourself to get educated on this disorder and the easy treatments available," said Gergen.
Pro Player Health Alliance was launched in 2012. Those that were in the room have expressed many times how excited they were to be a part of something never done before that had the potential to save hundreds of lives. Just in the past year alone, the PPHA has gotten over 160 former professional athletes treated and spread awareness to over 1,000 people across the country.
The awareness campaign titled "Tackle Sleep Apnea" has been a huge success by holding free public awareness events all over the nation and partnering with NFL greats who share their personal struggles with sleep apnea. A Mayo Clinic study shows that more than 60% of former NFL linemen suffer from sleep apnea; who better to share their story with the public?
Although it won't directly kill a person it is a big contributor to health risks that do kill, such as cardiovascular disease, diabetes and stroke. People with untreated sleep apnea have a mortality rate three times that of those who don't have the condition and by treating it early, one can add up to ten years on their life. To learn more about sleep apnea and the "Tackle Sleep Apnea" campaign or to find out when a Pro Player Health Alliance event will be rolling in to your town, visit http://www.proplayersleep.com/.
About Pro Player Health Alliance
Pro Player Health Alliance (PPHA) is an organization dedicated to helping former NFL players and the public through providing testing and treatment options for those who suffer from sleep apnea. In addition, the PPHA is dedicated to integrating education and raising awareness, in a fun and memorable way.
About David Gergen
As President of Pro Player Health Alliance, he has been a nationally respected dental lab technician for over 25 years. He received the award for "The Finest Orthodontic Technician in the Country" given by Columbus Dental in 1986. He also has been appointed chair of the dental wing of the American Sleep and Breathing Academy, a national interdisciplinary academy dedicated to sleep training and education with over 60,000 members. He has worked for some of the pioneers in the orthodontic and sleep dentistry fields. One of his proudest achievements is receiving The National Leadership award for Arizona Small Businessman of the Year in 2004.