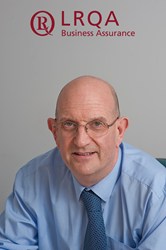 (PRWEB UK) 14 August 2013
With the global Environmental Management System (EMS) ISO 14001 currently being revised, LRQA has released another interview with one of the world's leading EMS technical experts.
In the third video interview with Steve Williams - LRQA Deputy Technical Director and member of the ISO TC/207 (ISO 14001 Revision) Technical Committee - he talks about the migration and transition plans for users of ISO 14001.
Steve recently spoke in-depth on this subject; visit our website to watch Steve talking about where we are in the ISO 14001 revision process, and about what organisations should do, if they wish to become ISO 14001 certified.