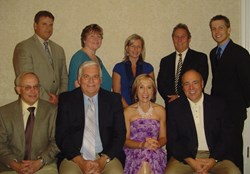 Perth Amboy, NJ, USA (PRWEB) August 27, 2013
Raritan Bay Medical Center Foundation announced the 29th Annual Harbor Lights Ball honorees during a kickoff cocktail party held recently at The Addison Park in Aberdeen, NJ. Executive leaders, trustees and event committee members gathered to congratulate the honorees and enjoy music provided by the Victor Quezada Jazz Trio, as well as a special performance by Say Watt, an award-winning robotics team comprised of students from local high schools.
The Harbor Lights Ball is the premier annual fundraising gala for the medical center and will be held Saturday, September 28, at The Addison Park in Aberdeen. This year's theme is #welcometothefuture and will include music by Tim McLoone & the Shirleys, dancing and a grand auction. Proceeds from the ball benefit the programs and services at RBMC. The Harbor Lights Ball honorees were selected based on their dedication and philanthropic commitment to Raritan Bay Medical Center (RBMC) and the surrounding communities. They include:

Humanitarian Award: Joseph J. Jankowski, Esq., Chairman of the Board of Directors of RBMC, attorney with Wilentz, Goldman & Spitzer, P.A., and respected community leader
Business of the Year Award: Sodexo Health Services, a longstanding partner of RBMC and industry leader in providing Quality of Life Services to health care facilities across the nation
Excellence in Healthcare Award: Stephen Warren, MD, director of the University Radiology Group, member of the RBMC Board of Directors, and chair of the Department of Radiology at RBMC
Norman Tanzman Award: Michael and Geri D'Agnes. Mr. D'Agnes, President and CEO of RBMC and his wife, Geri, former advertising sales executive, are known throughout the state of New Jersey for their commitment to improving healthcare in our region.
Future Leader Award: Kurt Rebovich, Jr., County Activities Coordinator for the New Jersey School Boards Association, as well as co-chair of the newly formed Future Leaders Association at RBMC.
If you would like more information about the Harbor Lights Ball or to receive a formal invitation, contact the Foundation at 732-324-5374 or visit to http://www.rbmcfoundation.org.
About the Raritan Bay Medical Center Foundation
Raritan Bay Medical Center Foundation was established in 1985. Its mission is to raise funds in support of Raritan Bay Medical Center by working closely with community groups, the business sector and individuals. Over the past 18 months, donors have contributed $2.2 million to the Foundation. In today's challenging economic climate, fundraising is critical to the medical center's continued investments in state-of-the-art technology, clinical innovations, facility modernizations, community outreach and other vital programs that enrich the health of area residents. Thanks to continued philanthropic support, the RBMC Foundation has funded many important projects including the medical center's ongoing growth and renewal plan.