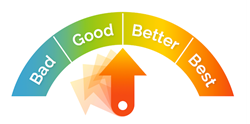 With RateMyProduct, we have created an automated tool to quickly and easily capture product performance data—all for a fraction of the cost of traditional market research. - Bill Kelly, President of BioInformatics LLC
Arlington, VA (PRWEB) August 13, 2013
BioInformatics LLC, life science industry market research experts, will be holding a webcast to discuss RateMyProduct™. RateMyProduct is BioInformatics LLC's proprietary lab product assessment tool that provides life science suppliers with customer feedback about suppliers' instruments, consumables and services.
This free 30 minute webcast will take place on August 14, 2013 at 1PM EDT.
RateMyProduct enables life science marketing and product managers to have products reviewed by selected target markets and get an online report within 5 business days. The automatically generated online report provides feedback from prospective customers on the following predictors of market success:

Market Receptivity
Innovation
Product Utility
Purchase Criteria
Pricing Appropriateness
Message Effectiveness
Differentiation
Overall RMP Score
Prospective customers who evaluate the products are drawn from The Science Advisory Board – an expert network of more than 73,000 scientists engaged in biological research, drug discovery and biopharmaceutical production.
"In our two decades of conducting market research on scientific markets, we have become adept at recognizing common pain points among product managers who are charged with bringing blockbuster products to market on a limited budget," says Bill Kelly, president of BioInformatics LLC. "With RateMyProduct, we have created an automated tool to quickly and easily capture product performance data—all for a fraction of the cost of traditional market research."
RateMyProduct is being introduced at a price of $1,500 for a summary report that contains value scores on a single product or service. RateMyProduct is available for fielding in two geographic regions—Europe and the United States.
Click here to register for the webcast.
About BioInformatics LLC
BioInformatics LLC is the premier research and advisory firm serving the life science industry. By leveraging our expert network of more than 71,000 life scientists, we have supported more than 500 companies and provided insights that lead to better business decisions. Our assignments include assessing the size and attractiveness of markets, optimizing product configurations and pricing, validating corporate acquisitions, measuring customer loyalty, and evaluating brand strength and positioning.
For more information contact:
Mary Follin
Manager, Marketing/Sales
BioInformatics LLC
2111 Wilson Blvd., Suite 250
Arlington, VA 22201
703.778.3080 x13 (phone)
m.follin(at)gene2drug(dot)com