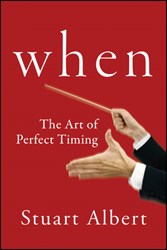 San Francisco, CA (PRWEB) August 27, 2013
An elegant and counterintuitive guide to achieving perfect timing in business
"This detail-rich, case-study-based volume is a truly unique addition to the business literature, and Albert's common-sense points will prove a boon to readers eager to make time count."
—Publishers Weekly
Timing matters. And it matters in every aspect of business: from the launch of a new product, to decisions about when to change strategic direction, spin off part of a company, accept a counteroffer or invest in new equipment. History if full of innovation products and services that failed because they were too early. And on the flip side, in a word racing on steroids: the fatal flaw is being too late. Many strategies would have worked if only they had executed earlier.
Based on a 20-year investigation into more than 2,000 timing issues and errors in business, politics, and even warfare, WHEN: The Art of Perfect Timing (Jossey-Bass; 978-1-118-22611-7; August 2013; e-book available; $26.95) by Stuart Albert presents a single and practical approach for dealing with timing in life and business. When is for executives in all fields and for people at every level of organization where it is important to get timing right. Good timing, Albert argues, is not just a matter of luck, intuition, or past experience--all of which may be unreliable--but a skill. Albert describes that skill and how it can be acquired by anyone who deals daily with the four classic issues of timing:

When to act: When shows how to analyze the situation and decide on the best time to move.
Risk factors: When helps you identify timing risks in advance and act in a way that will minimize uncertainty and have a positive impact on the outcome.
How to proceed: When will show you that success is determined not merely by what we do, but by our choice of "temporal design"--meaning the right rate, sequence, and rhythm for implementing a course of action.
Identifying timing issues in advance: When offers a way to identify and manage timing issues so that you are not blindsided by what could have been anticipated or prevented and was not.
Time spent building timing skills are well spent if organizations want to spot opportunities first, execute on them and avoid costly mistakes. When will have a powerful new way of looking at what we do every day. All of our business actions and activities will be better timed, and hence, likely to succeed.
About the Author:
Stuart Albert (Minneapolis, MN) is an expert on timing. He is an associate professor at the University of Minnesota's Carlson School of Management and has been a visiting scholar at Harvard and at MIT. The developer of a practical, research-based method for managing timing in business, Albert has worked with a range of companies and industries, from small start ups to large multinationals, to better understand and manage issues of timing. He has published classic works on time and timing in top academic journals. His patent on the interpretation of movement in time was featured in the New York Times.