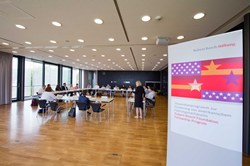 New York (PRWEB) August 14, 2013
Cultural Vistas is pleased to announce a revitalized Robert Bosch Foundation Fellowship Program, a distinguished international initiative that has fostered a community of more than 500 transatlantic leaders since its inception 1984.
Beginning with the 2014-15 program year, the 31st year of this initiative, the Bosch Fellowship will offer additional flexibility for American professionals looking to gain high-level, practical experience in Germany.
The fellowship will offer a broader range of professional fields, options for program duration, as well as updated eligibility requirements. By opening up this unique opportunity to include more mid-career professionals from a wider variety of backgrounds, the goal is to extend the Bosch Fellowship's reach and create even deeper ties within the transatlantic sphere.
The Bosch Fellowship is comprised of three main components:
•Customized work placements
•Professional seminars
•German language training
During their program year, Bosch Fellows work as consultants in their field of expertise at leading public or private institutions in Germany. They also participate in professional seminars, where they travel to meet and exchange ideas with key figures across Germany and Europe.
Prior to their work placements and seminars, Bosch Fellows participate in up to five months of language training with both private tutors in the United States and group classes in Germany.
Fellows are selected from the fields of business administration, cultural management (e.g. museum, theater, orchestra), journalism, law, nonprofit, public policy, and urban planning.
The program is fully funded by the Robert Bosch Stiftung, one of the largest foundations in Germany, and has been administered in the United States since its inception by Cultural Vistas.
To find out more about these new developments, please visit culturalvistas.org/bosch.
The online application for the 2014-15 year will open in late summer, with a submission deadline of November 1, 2013.
Please contact bosch(at)culturalvistas(dot)org with any questions.
About Cultural Vistas
A non‐profit organization, Cultural Vistas has facilitated professional exchange programs and services for visitors coming to the United States and Americans seeking overseas experiential learning opportunities since 1950. – Learn more at culturalvistas.org.
Follow @CulturalVistas and @BoschFellowship on Twitter.