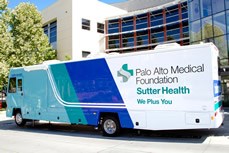 "The demand for this service has been overwhelming," said Ron Sinha, M.D., a PAMF internist and medical director of PAMF's Employer Health Services Program. "Employees clearly are concerned about their health."
Palo Alto, CA (PRWEB) August 13, 2013
Bay Area employees can now receive expert medical care at work when the Palo Alto Medical Foundation's (PAMF) health care team comes to them. In August 2013, PAMF's Employer Health Services launched its new Care-a-Van mobile medical clinic. The Care-a-Van provides primary and wellness services, including annual check-ups, blood work and vaccinations. Several leading Bay Area employers – the majority located in Silicon Valley – have already signed up for the service, and PAMF's Care-a-Van team is continuing to expand its schedule.
"The demand for this service has been overwhelming," said Ron Sinha, M.D., a PAMF internist and medical director of PAMF's Employer Health Services program. "Employees clearly are concerned about their health, but often lack the time to establish care with a new primary care provider or manage their existing health issues. The Care-a-Van provides them the opportunity to get that overdue blood test or vaccination at the convenience of their workplace, and the results will be updated in an electronic health record instantly. Employees who have come to see us so far have been extremely impressed by the onboard amenities, feeling virtually no difference than being seen at their local PAMF clinic."
The Care-a-Van has two exam rooms and a medical team offering Primary Care and Wellness Services. PAMF's experts can work with on-site trainers and nutritionists to develop a comprehensive plan to optimize employees' health.
Primary Care Services Include:
•Annual physicals
•Treatment for basic health issues
•Counseling on test results (blood pressure, blood sugar, cholesterol and body mass index)
•Lab services
•Vaccinations
Wellness Services:
If a work location offers on-site screening services that identify a particular health issue (for example, blood pressure, cholesterol or weight), the employee can schedule a visit with a Care-a-Van doctor for help and advice to improve his or her health.
Access to Electronic Health Records
Any immunizations or lab tests a patient receives in the Care-a-Van will also be documented in the patient's electronic health record (EHR).
PAMF patients can also use My Health Online to conveniently and securely manage their health information online, access key components of their medical records, request prescription renewals and appointments, view laboratory test results, and communicate with their care team directly via email. PAMF's free My Health Online service is also available via the My Chart app on both iPhone and Android devices.
Learn more about the benefits of having PAMF's Care-a-Van come to your workplace and read answers to Care-a-Van Frequently Asked Questions.
About the Palo Alto Medical Foundation
The Palo Alto Medical Foundation (PAMF) for Health Care, Research and Education is a not-for-profit health care organization that is a pioneer in the multispecialty group practice of medicine and health information technology. Founded in 1930, PAMF is part the Sutter Health network of care, one of the nation's leading not-for-profit networks of community-based health care providers. PAMF's 1,000 affiliated physicians and 4,900 employees serve nearly 730,000 patients at its medical centers and clinics in Alameda, San Mateo, Santa Clara and Santa Cruz counties. For more information about the Palo Alto Medical Foundation, please visit the PAMF website and join us Twitter and Facebook.