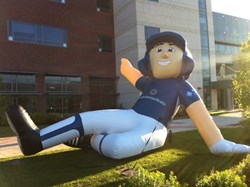 Our medical staff works tirelessly behind the scenes, so we felt this project was the best way to demonstrate our pride in and support for the Little League World Series and the community in a visual way.
WILLIAMSPORT, PA (PRWEB) August 14, 2013
A strong supporter of Little League World Series baseball for the past 55 years, Susquehanna Health's (SH) enthusiasm has reached new lengths as the health system unveils "Will M. Sport," a 12-foot tall by 20-foot long balloon in the form of a sliding little league player at the Ninth Annual Grand Slam Parade on August 14.
The brainchild of the SH Marketing Department, the idea for this sliding slugger was conceived and developed in early spring, according to Referral Development Director Chris Ray. "Our medical staff works tirelessly behind the scenes, so we felt this project was the best way to demonstrate our pride in and support for the Little League World Series and the community in a visual way," Ray said. The cold air inflatable balloon which weighs roughly 60 pounds is an original design developed to specifications that enable it to be maneuvered through downtown Williamsport.
SH partnered with Blue Cross of Northeastern Pennsylvania (BCNEPA) to bring the balloon concept to fruition. "Blue Cross was on board with this project from day one," said Ray. The balloon was ordered in May and delivered in July. In the meantime, SH challenged its more than 4,000 service partners to enter a "Name the Little Leaguer" contest to give the sliding slugger his moniker. Ten contest winners who helped name Will M. Sport will team up with about 40 others representing SH Marketing, Williamsport Family Medicine Residency and BCNEPA to accompany the tethered giant along his first parade route.
Last week, Will M. Sport was introduced to SH service partners at each of the four hospital campuses from Williamsport to Muncy to Wellsboro, PA. Balloon spotters are encouraged on Susquehanna Health's Facebook and Twitter pages to snap a photograph and post sightings for a chance to win a $100 Visa gift card. Following the parade, Will will be on display across from the World of Little League Museum on Route 15 Highway, South Williamsport. A contest winner will be chosen August 26.
For more than five decades, SH has provided behind-the-scenes medical support in the grove, on the diamond and in the stands during the Little League World Series games. The SH medical team is a comprehensive package comprised of resident physicians from the Williamsport Family Medicine Residency program, SH Sports Medicine certified athletic trainers, SH Prehospital Services/Susquehanna Regional Emergency Medical Services and faculty and students from Penn College's physician assistant, emergency medical services and paramedics programs.
Dr. John Boll, assistant director of the Williamsport Family Medicine Residency program, serves as medical director for the 2013 Little League Baseball World Series and supervises the team of medical professionals who provide healthcare to athletes, coaches and umpires in the event of illness or injury. SH Sports Medicine's Dr. Edward Gusick also assists on the field.
Preparation for the World Series games begins months in advance with strategic planning meetings, medical supply inventories and health reports. As coaches and players arrive, onsite preparation is already in full swing. Once the games begin, EMS personnel, supervised by Medical Director Dr. Greg Frailey, are prepared to respond to ill or injured spectators in or around the grandstands and to transport patients to a medical facility when needed.
"Susquehanna Health is proud of our partnership with the Little League World Series. For 55 years, we have been providing big league medical care to the athletes, coaches and fans during the games," said SH Musculoskeletal Services Administrative Director Sue Everett. "The Little League World Series is a family-oriented event that is important to the health of our community and we are pleased to provide support with comprehensive medical care."
For more information on Susquehanna Health, visit susquehannahealth.org. To participate in the Will M. Sport social media contest, post a photograph of Will to Facebook or Twitter and tag @SusquehannaHealth in the photograph along with the hashtag #willmsport.
About Susquehanna Health
Susquehanna Health is a four-hospital integrated health system including Divine Providence Hospital, Muncy Valley Hospital, Soldiers + Sailors Memorial Hospital and Williamsport Regional Medical Center located in north central Pennsylvania. Serving patients from an 11-county region, Susquehanna Health is a healthcare leader and has been recognized at the national and state levels for quality of care. Susquehanna Health offers a wide array of services that include cancer care, heart and vascular care/heart surgery, neurosciences including neurosurgery, orthopedics, urology, OB/GYN, gastrointestinal services, behavioral health, physical rehabilitation, home care, long term care, assisted living and paramedic/ambulance services.