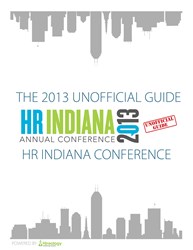 After talking to several conference members we realized the need for a guide about the hosting city and venue to help attendees find useful information about the conference
Chicago, IL (PRWEB) August 14, 2013
The leading selection management company, Hireology, has announced the creation of an informational guide for 2013 HR Indiana Conference attendees. The ebook contains information on the host city of Indianapolis such as: Where to eat, how to get to the venue, and what to see during your conference trip.
Also in the guide is a section on the HR Indiana SHRM Conference that details special events going on during the show, the keynote speakers, and the exhibit hall.
"After talking to several conference members we realized the need for a guide about the hosting city and venue to help attendees find useful information about the conference," said Kevin Baumgart, the Director of Business Development for Hireology. "Our guide is the perfect answer to attendees wondering everything from where to find coffee at the event to what speakers to see."
After Hireology saw a record number of downloads with their 2013 Welcome to Chicago SHRM Guide, it was evident that informational ebooks were beneficial to conference attendees and visiting exhibitors. When Hireology secured a booth at the 2013 HR Indiana SHRM Conference, they immediately starting researching Indianapolis and the SHRM State Conference show.
To download the ebook that contains information on Indianapolis, the HR Indiana Conference venue, the sessions, and speakers click here.
About Hireology
Hireology is the leading selection management platform for distributed enterprises. Their award-winning Selection Manager™ includes everything an operator needs to manage their hiring process, including a fully-hosted career site, integrated job postings, compensation analysis, pre-hire assessments, interview guides, background checks, skills verification and more. Franchise systems, banks and financial institutions, healthcare systems, dealer networks, and other multi-site operators use Hireology's web-based platform to deliver consistent and repeatable hiring decisions in the field - leading to lower turnover and increased profitability per location. For more information, please visit http://www.Hireology.com/.