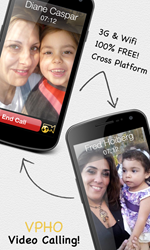 (PRWEB) August 15, 2013
The latest update to the VPHO app is now available to download from the Apple App store. VPHO users only need to connect to the messaging service to view videos and access these optimised accessibility features.
Yehuda Hadar says, "We have improved the stability and quality of video calls via VPHO on the iPhone 4S and iPhone 5. The exchange of photos should now be easier and faster. We have also implemented general bug fixes and further optimisations to improve user experience and interaction with the app."
VPHO for iPhone is optimised for the longer screen dimensions of the iPhone 5 and also supports iPhone models 3GS, 4, 4S, iPod Touch 5 and third, fourth and fifth generation devices. The app requires installation of operating systems iOS 5.0 or later.
About VPHO
VPHO is an "All In One" complete package for talking and chatting with your friends and family and combines the special features of each of its leading competitors into one, single functioning app. With VPHO, iPhone, iPad, and Android users are able to access an all-in-one communication solution.
Users can make a call to non-users with VPHO credit and Pay As You Go packages range from $4.99 to $29.99. The newest update which includes free, unlimited video messages can be downloaded from the Apple App Store.