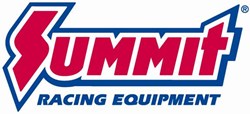 Tallmadge, OH (PRWEB) August 15, 2013
Designed as direct bolt-on replacements for OEM single-piston calipers, the Comp S and Comp R brake calipers are manufactured from 6061-T6 billet aluminum and feature 25 percent more pad contact area than similar brake calipers. The dual pad pin design has O-rings to eliminate pad chatter common with other high performance brakes.
The calipers are assembled with four 45mm stainless steel pistons and Teflon®-coated bleeder screws. Organic brake pads are included; the calipers use readily available D43-style pads.
The Comp S calipers come with dust shields to keep the dirt, dust, and other particles out of the pistons. The Comp R calipers do away with the dust seals to make inspecting and changing the pistons easier at the track.
COMP S APPLICATIONS

• 1969-74 Nova
• 1967-69 Camaro/Firebird

1965-73, 1994-2004 Mustang
1968-70 Fairlane/Torino
1965-72 Dodge Dart/Demon, Plymouth Valiant/Duster
COMP R CALIPER APPLCIATIONS

1964-72 Chevelle/Malibu, Lemans/GTO, Cutlass/442
• 1969-74 Nova
• 1967-69 Camaro/Firebird
• 1965-67 Mustang

1965-72 Dodge Dart/Demon, Plymouth Valiant/Duster
Summit Racing Equipment
http://www.SummitRacing.com
1-800-230-3030