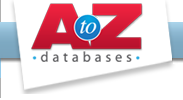 In short, it's a one-stop reference service enabling everyone – from job seekers and students to researchers and business owners – to do their homework.
- Rakesh Gupta, president
OMAHA, Neb. (PRWEB) August 15, 2013
At the Lane Libraries, AtoZdatabases has become a popular and effective addition to the institution's collection of reference databases. Chip Kruthoffer, Lane's head of systems, is pleased that subscribing to AtoZdatabases in lieu of a competing service has saved the library money and opened new avenues for patrons with a variety of research needs.
"AtoZdatabases is one of my favorite databases," said Kruthoffer, whose libraries serve southwest Ohio's Butler County in the greater Cincinnati area. "It's unique not only for its breadth of search functions and features, but the downloading and emailing capabilities make it even more user-friendly and convenient for our patrons."
Powered by DatabaseUSA.com, AtoZdatabases is the premier supplier of reference and marketing databases as well as job searches for public libraries, academic institutions and government organizations. Users can access 2.3 million job listings in addition to 300 million business and consumer profiles containing names, street addresses, email addresses, landline phone numbers and other information. A database of 200 million cellphone numbers will be introduced soon, making it even easier for users to connect with job and sales prospects.
"AtoZdatabases is helping people perform an array of employment searches, marketing analyses, school projects and other reference queries, all from the comfort of their local public or college library," said Rakesh Gupta, the company's president. "In short, it's a one-stop reference service enabling everyone – from job seekers and students to researchers and business owners – to do their homework."
For a free 30-day trial of AtoZdatabases, email sales(at)AtoZdatabases(dot)com or call 877-428-0101.