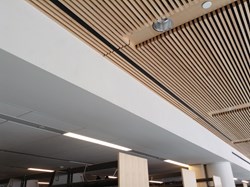 Salem, MA (PRWEB) August 28, 2013
U.S. Smoke & Fire, A Division of CYSA Development, completed the installation of an atrium smoke curtain system at Salem State Library in Salem, Massachusetts.
The new Salem State University Library contains more than 128,000 square feet of space, and is home to 125,000 scholarly books. It will serve as the replacement library to the University's five campuses.
Architect Shepley Bulfinch Richardson & Abbott designed the core and shell of the new library, which includes several small atrium conditions throughout the five floor building.
R.W. Sullivan Engineering was consulted to provide a computational fluid dynamics (CFD) smoke study. The study revealed the need for SD60 automatic smoke partitions on the upper most floor. The gravity fail-safe smoke partitions were used to deflect and channel smoke to points of extraction, reducing the overall need for partitions or powered forms of smoke control.
[The Lee Kennedy Company acted as the construction manager and general contractor for the project.
About:
U.S. Smoke & Fire, A Division of CYSA Development is a value-added distributor of fire protective gravity fail-safe smoke curtain technologies. Services include full-service CAD-enabled design development, construction document review, shop drawings, verified in-field shop drawings, full-service curtain system installation, commissioning, and acceptance testing as well as coordination with architecture, fire protection and mechanical engineering companies. U.S. Smoke & Fire provides worldwide AIA continuing education credit on the subject of fire protective gravity fail-safe smoke curtain technology. For more information, please visit ussmokeandfire.com and ussmokeandfirecurtain.com.