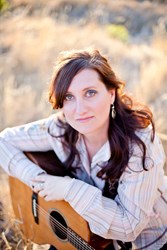 Hyannis, Mass (PRWEB) August 16, 2013
Middleman Productions proudly announces that Nashville country crooner and songwriter Shantell Ogden will perform live on Friday, August 30 at the Cape Cod Community Media Center, located at 17 Shad Hole Road in Dennis Port, Massachusetts.
Known for her beautiful acoustic quality, spot-on musicianship, a little bit of swagger and sweet, clear delivery, Ogden has released two acclaimed independent albums and tours internationally. Her music has received coverage in Nashville's The City Paper, Performer Magazine, Music News Nashville, Maverick Magazine in the UK and other media. To learn more about the artist, visit http://www.shantellogden.com/. To purchase tickets at $25 each, visit LivefromCenterStage.com.
Ogden's show kicks off the second half of Live From Center Stage's 2013-2014 debut concert series that is bringing a provocative and highly infectious blend of world music and genre-defining recording artists in R&B, Jazz, Blues, Latin, Country and more to Cape Cod. Each concert is streamed via the Internet for listeners around the world, along with behind-the-scenes pre- and post-show interviews with the artists.
Show lineup through spring 2014:
September 27, 8 PM - Ray Greene and his all-star band - Singer, producer and multi-instrumentalist Ray Greene was brought up in the shadows of the great soul/R&B legends of our time and has performed with some of the biggest names in R&B, such as Aretha Franklin, Natalie Cole and Rick James.
October 25, 8 PM - Murray & Falkenau - The Irish-based folk duo Anna Falkenau and Ivan J. Murray join us from Galway City to play their unique brand of contemporary folk songs that are subtle and rootsy yet powerfully steeped in both Irish and American traditions. 
November 29, 8 PM - Sherma Andrews - This gifted singer-songwriter from the Caribbean Island of Trinidad is a force beyond the imagination. While touring with the Grammy Award winning Latin sensation Enrique Iglesias, Sherma dazzled fans all over the US, South America and Europe. She has also toured with Britney Spears, worked with Donna Summer.
December 20, 8 PM - Gary Foote HarlemWorks Christmas featuring Jenny Douglas - This HarlemWorks Christmas concert features Pop/Rock/Soul sensation Jenny Douglas from New Jersey. Jenny is a background singer for Pink, Toto, Mick Jagger, Cher, Rob Thomas, John Mellencamp, Joe Cocker, Janet Jackson and others.
January 31, 2014, 8 PM - Joe Bargar And The Soul Providers - Joe Bargar is a veteran of the New England music scene. Having grown up in Providence, Rhode Island, Joe had the opportunity to appear with such legendary acts as Roomful Of Blues, Scott Hamilton, Duke Robillard, James Montgomery and The Fabulous Thunderbirds.
February 28, 2014, 8 PM – Will Charles and guests - Will Charles has jammed alongside many of the world's great icons of R&B, rock and progressive music. His lyrically driven songs blend idiosyncratic styles and excuse same-old-same-old hooks altogether to exude a wholly fresh attitude. Think "David Byrne meets Sargent Pepper with a little Frank Zappa quirk and Smokey Robinson sensuality on the side."
March 28, 2014, 8 PM - A tribute concert to Lou Columbo - During his career, Columbo played with Dizzy Gillespie, Tony Bennett, Rosemary Clooney, Mel Torme, Sammy Davis Jr., Tommy Dorsey, Artie Shaw and his "Band of Brothers" at the Roadhouse Cafe. Lou was known for his one-handed trumpet style. "This guy is amazing!" noted the great Dizzy Gillespie in a 1988 interview. "I've been preaching his name ever since that first night I heard him down on Cape Cod."
About the Show Producers
Ivan Rambhadjan: As managing director at Digital Media Solutions, Ivan has been involved with video production for more than 20 years and is the director of operations at C3TV 99 in Dennisport, MA. Raised on the Caribbean Island of St. Maarten, Ivan has produced numerous TV commercials, campaign ads, documentaries and many live concerts with artists such as Ludacris, Bow Wow, Morgan Heritage, Sanchez, Jah Rule, Beenie Man, Byron Lee and the Dragonaires.
Mark Person: As founder of Middleman Productions, Mark humbly offers his passion, insight and talents as a music promoter, artist manager event planner and consultant to "help other artists achieve success." Mark's passion for music was sparked at an early age, singing the church choir. Booking the legendary Lou Columbo for his first gig as a music promoter set him on his way. Today, Mark promotes both renowned musicians and outstanding up-and-coming acts. To learn more, visit Dreamproducer.com.
For more details, visit LiveFromCenterStage.com.
To schedule an interview, contact Mark Person at 774.487.1427 or Mark(at)dreamproducer(dot)com.
— 30 —