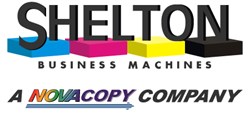 "We are very excited to be a part of the NovaCopy family and believe the efforts of our combined teams will bring added value and greater opportunity to our customers."
- Mark Shelton, President, Shelton Business Machines
Nashville, TNN (PRWEB) August 19, 2013
NovaCopy Inc., has purchased Shelton Business Machines, the leading office equipment company in southeast Missouri, northeast Arkansas and northwestern Tennessee.
"For the past 28 years, Shelton Business Machines has built a professional and well-respected reputation with its customers and local business communities," said Darren Metz, Chief Executive Officer of NovaCopy. "This is a positive move for both companies and we look forward to continuing existing relationships as well as creating new ones."
NovaCopy, a recognized industry-leading copier, document solutions and 3D printing company headquartered in Nashville, Tennessee, witnessed explosive growth (36 percent) in 2012 with revenues of $45 million. The same year, NovaCopy opened branches in Knoxville and Jackson and a 43,000 sq. ft. facility in Dallas. This year (2013) witnessed additional growth with the purchase of Tom Lawler's copier division in Jackson, Tennessee in May.
NovaCopy will retain the Shelton Business Machines name, office in Malden, MO as well as the sales, service and administrative teams.
"We are very excited to be a part of the NovaCopy family and believe the efforts of our combined teams will bring added value and greater opportunity to our customers," said Mark Shelton, president (and former owner) of Shelton Business Machines. "The long-standing tradition of customer care and top technology solutions established by my father, Philip, will continue to be a beacon to our local business communities. All-in-all, everyone wins - our customers and employees."
Shelton Business Machines is currently hiring additional outside sales staff and service technicians. Interested individuals should visit http://www.NovaCopy.com.
About NovaCopy, Inc.
NovaCopy is an award-winning provider of state-of-the-art document workflow solutions, copiers and 3D Printer systems. Recognized as Konica Minolta's largest single-line copier dealer, as well as one of the fastest growing companies in the US, NovaCopy offers free cost analysis so you may easily choose the exact solutions, equipment, accessories and software to meet your needs – within your budget. NovaCopy is headquartered in Nashville with over 200 employees in seven locations throughout the United States. For more information, please visit: http://www.NovaCopy.com. Follow NovaCopy on Facebook and Twitter for all the latest news.